This article is more than 1 year old
I've got way too much cash, thinks Jeff Bezos. Hmmm, pay more tax? Pay staff more? Nah, let's just go into space
The world needs fewer men like Amazon's CEO
Comment Poor, poor Jeff Bezos.
The Amazon chief executive has complained he has so much money, the only thing he can think to blow it on is his Blue Origin space tourism project.
Bezos was in Germany last month to pick up the Axel Springer Award for being such an innovative person, and gave an extensive interview to the German publisher outlining his philosophy. In it he was asked, as the world's richest man with a net worth of $130.8bn, what money meant to him now.
"The only way that I can see to deploy this much financial resource is by converting my Amazon winnings into space travel. That is basically it," Bezos said.
"I am very lucky that I feel like I have a mission-driven purpose with Blue Origin that is, I think, incredibly important for civilization long term. And I am going to use my financial lottery winnings from Amazon to fund that."
So desperate is Bezos to blast off into orbit and beyond, he's forgotten one thing. Earth. As in, the people on it right now. Specifically, the people who work for him, who made him rich, and the cities in which they live. They are being left behind in more ways than one as the internet baron prepares to lift off into the heavens.
Star trekking
Now obviously, humankind has to get off this overcrowded, resource-limited rock at some point, and explore the obsidian void, so thinking long term here is no bad thing. We've got to establish ourselves elsewhere. Key words here are long and term. Right now, there's somewhere closer to home Bezos could splash some of his cash.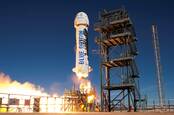 Mannequin Skywalker takes high ground on Bezos-backed rocket
READ MORE
Take, for example, Amazon's poorly paid warehouse workers, who toil away in such grueling conditions that some pee in bottles to save time between sorting parcels. Bezos was asked to respond to these criticisms of his e-souk, of its hiring and employment practices. He tried dodging the question by talking about the 1984 Kindle cockup before releasing this zinger.
"I'm very proud of our working conditions and very proud of the wages we pay," he said. "You know, in Germany we employ 16,000 people, and we pay at the high end of the range for any comparable work."
What he neglected to mention was that German workers are paid so well because they held multiple strikes to force Amazon to actually pay a decent wage, and were supported by strong national employment laws that allowed them to do so. In America the situation is very different.
Work peons! Work!
In order to deliver shiny new things to internet buyers at such a rapid pace, Amazon has set up a network of warehouses, typically in depressed areas of the US where wages are relatively low and kept relatively low. It employs about 125,000 staff, who are constantly timed and critiqued on their performance, plus tens of thousands more temp workers at peak sales periods.
A study published in January by The Economist found that warehouse staff employed in America by Amazon earned about 10 per cent less than other nearby warehouse workers. When Amazon arrives in your town, the average salary for warehouse workers drops by three per cent.
Your humble hack can't put it any other way. Wages in Amazon's warehouses, and in its other facilities, are low. One study from non-profit PolicyMatters Ohio earlier this year showed that about 11.8 per cent of Amazon workers are on food stamps – they're so poorly paid by multibillionaire Bezos that the government subsidizes their meals. Sorry, the American taxpayers subsidize their meals.
To add insult to injury, Amazon's own Go stores, which eliminate the need to employ human cashiers, don't even accept food stamps. Its own workers have to shop elsewhere.
To be fair, this isn't just an Amazon issue. Several large companies, including Walmart, are infamous for paying wages so low that the taxpayer sometimes has to fill in the gap. But when you're the world's richest man, is being part of this ensemble of cold-hearted bastards something you are "very proud" of?
But, I hear you say, Amazon pays hefty amounts of tax so it all works out in the end. Not so in Amazon's case.
For 2017, Amazon paid zero dollars and zero cents in US federal income taxes. It accomplished this using legal loopholes and offsets, rather than by cheating. There were various tax breaks, credits, and deferments that brought what should have been about $1.3bn in federal taxes down to nothing despite booking an income of $5.6bn. It paid about $769m total in taxes, although $724m of that went overseas.
In other words, Amazon did pay millions in US state and foreign taxes, but not to Uncle Sam centrally. And no doubt someone will chime in to say that if Amazon pays more in taxes and wages then its prices will rise and everyone loses, and obviously this is a moronic train of thought.
The biz is also operating a Battle Royale-style contest to decide where to put its second headquarters. US cities eager to host Bezos' bunch have been encouraged to offer the firm a host of tax breaks in return for the privilege of hosting Amazon workers.
And then there's the hypocrisy
During the interview, Bezos burnished his charitable credentials by waxing lyrically about a homeless shelter called Mary's Place, in Seattle, Amazon's birthplace and corporate base. This shelter had opened his eyes to the importance of charity work.
That's a rather unfortunate example, as it turns out. Days after the interview, Amazon went head to head with the city of Seattle about the homeless situation, and made it clear it has no intention of helping sort it out. Seattle, which has a non-trivial homeless problem, is mulling a new tax, based on company headcounts in the city, to fund solutions to alleviate the situation. On Wednesday, it was reported that Amazon has halted plans to expand in the city because there is no way it is shelling out extra bucks per staffer in Seattle to help the homeless.
"I can confirm that pending the outcome of the head tax vote by City Council, Amazon has paused all construction planning on our Block 18 project in downtown Seattle and is evaluating options to sublease all space in our recently leased Rainier Square building," Amazon Vice President Drew Herdener told the Seattle Times.
Maybe Bezos is planning to offer homeless people in its home city a new chance in the off-world colonies, but somehow we doubt it. ®