Whoa, Gartner drops a truth bomb: Blockchain is overhyped and top IT bods don't want it
Didn't you know it's panacea to all corporate woes, bro?!
---
Blockchain is overhyped, CIOs aren't using it and many don't plan to either, according to the latest research from Gartner.
In its annual survey of IT leaders, the analyst firm found that just 1 per cent are already using blockchain and only 8 per cent plan to experiment with it in the short term.
In contrast, a third of the 293 respondents said they had no interest in blockchain, and a further 43 per cent said they had no action planned but the tech was "on the radar" – hardly surprising given that it's thrown into just about every product announcement going.
David Furlonger, a Gartner veep, said the results demonstrate "the massively hyped state of blockchain adoption and deployment".
The shocking, shocking, shocking (shocking 3) news that CIOs aren't making use of blockchain in the real world will surely rattle no one's cage: "blockhain is overhyped" is rapidly becoming its own subset of hype, and many people are immune to it.
But neither the reality nor Gartner's sage warnings that businesses need to "understand what blockchain is and what it is capable of today" before rushing into failed innovations is going to stop the fanbois.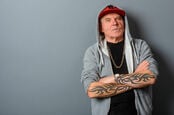 BOFH: Guys? Guys? We need blockchain... can you install blockchain?
READ MORE
And Furlonger suggested that the zealous champions of the technology might be part of the problem, as it is pushing the more grounded techies away from blockchain.
IT leaders are finding it challenging not just to find qualified engineers, he said, but also to find enough of them to deal with a growth in blockchain developments.
"Qualified engineers may be cautious due to the historically libertarian and maverick nature of the blockchain developer community," Furlonger said.
The survey found that 23 per cent of CIOs felt blockchain needs the most new skills to implement of any technology area, and 18 per cent said that blockchain skills are the most difficult to find.
"Blockchain technology requires understanding of, at a fundamental level, aspects of security, law, value exchange, decentralized governance, process and commercial architectures," said Furlonger.
He claimed organisations wanting to use blockchain could "no longer operate under their historical structures" because the tech demands them to shift from "traditional lines of business and enterprise silos".
Such a shift is partly why the tech has yet to make the big time in enterprises, which lack the skills and often the support from service providers – and this includes legacy vendors like Oracle, rather than just the latest startup to stick blockchain in its name.
Nonetheless, much as it might pain the firm to acknowledge something that goes against the lauded hype cycle, even Gartner can't deny that some industries are embracing the tech, with telecom, insurance and financial services the most likely sectors to be trying it out.
Furlonger sounded a note of caution:
"While many industries indicate an initial interest in blockchain initiatives, it remains to be seen whether they will accept decentralized, distributed, tokenized networks, or stall as they try to introduce blockchain into legacy value streams and systems." ®
Similar topics
Narrower topics