MacBook Pro petition begs Apple for total recall of krap keyboards
May the force of furious loyalists force an end to this farce
The long-simmering dislike for the keyboard on recent Apple MacBook Pro computers has reached peak pique: A fed-up MacBook Pro owner identifying himself as Matthew Taylor has created a Change.org petition asking Apple to recall every MacBook Pro released since late 2016.
"Every one of Apple's current-gen MacBook Pro models, 13in and 15in, is sold with a keyboard that can become defective at any moment due to a design failure," Taylor claimed. "The problems are widespread, consistent, and infuriating."
Created a week ago, Taylor's petition now has over 5,700 signatures and looks as if by later today it will hit its 7,500 target, an event of no real significance other than reaching an arbitrary figure. Cupertino can ignore the petition at will.
Taylor's discontent may be taken as isolated crankiness were it not shared by a number of well-regarded developers and journalists, including those with a penchant for seeing Apple in a favorable light. And for what it's worth, we're not entirely wild about the Fn key that keeps falling off one of our office's MacBook Pro laptops.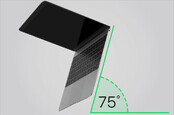 Apple's QWERTY gets dirty leaving fanbois shirty
READ MORE
Daring Fireball blogger John Gruber, who built a substantial following based on his thoughtful appreciation of Apple technology and design, has been unusually critical of the current MacBook Pro keyboard.
"This keyboard has to be one of the biggest design screwups in Apple history," he fumed recently. "Everyone who buys a MacBook depends upon the keyboard and this keyboard is undependable."
Gruber was responding to Outline writer Casey Johnston's account of how her MacBook Pro keyboard succumbed to dust.
As Johnston recounts, Apple began switching its laptop keyboards to use butterfly switches in 2015 and rolled out a second generation in 2016. The problem, she suggests, is that they're exceedingly delicate, nearly unrepairable by consumers and prone to failure.
Developer Marco Arment has a similar opinion of Apple's current MacBook Pro keyboard. "Butterfly keyswitches are a design failure that should be abandoned," he wrote in a blog post last year.
And anecdotes of discontent abound. Via Twitter, Matt Kelly, editor of Brit newspaper The New European, recently lamented, "My wife's six month old MacBook Pro's keyboard suddenly stops working. Genius Bar guy says it's all they are dealing with these days but @Apple refuse to accept a fault, blaming owners, even with AppleCare. Charge to repair is £400. This sucks @tim_cook."
The Register asked Apple to comment. We also asked a brick wall. We've not heard back from either.
In Apple's defense, the last time it admitted to a significant failing – its decision to throttle iPhone processors without telling anyone – a flood of lawsuits followed.
But Apple has acknowledged the issue in its own litigation-shy way: Last year, it published a support page, to help those whose keyboards have been downed by dust.
Having returned over $22bn to investors last quarter in a stock buyback, with plans to spend $100bn in a similar fashion, perhaps Apple just doesn't have any cash lying around to spend on its customers. ®