The US military has formally complained to China after blinding lasers were fired at Uncle Sam's aircraft coming in to land at the American airbase in Djibouti.
Pentagon spokeswoman Dana White said two US military pilots suffered minor eye damage from lasers hitting the cockpit of their C-130 transport airplane landing at Camp Lemonnier in the African nation. Lasers have been directed at craft over the airbase at least ten times in the past few weeks, we're told.
"They are very serious incidents," White said today, the South China Morning Post reports. "This activity poses a true threat to our airmen."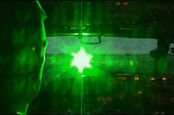 Aircraft laser strikes hit new record with 20 incidents in one night
READ MORE
The 500-acre Camp Lemonnier base was set up after the September 11 attacks, and it coordinates US military activities in the West African and Middle Eastern region. However, in 2016 China built its first overseas military base a couple of miles down the road, and the laser emissions are coming from this facility, the Americans claim.
The availability of cheap laser pointers has caused an epidemic of laser strikes on aircraft in America's skies as idiots think it would be fun to try and blind a pilot mid-flight. The FBI has offered bounties on such fools. As you might expect, it appears the Djibouti strikes may be coming from slightly different hardware.
Military researchers at Jane's Defence Weekly reported last month that Beijing installed a high-powered laser system at its Djibouti base, or possibly on a ship at the nearby naval station.
"The use of lasers to temporarily blind pilots has been increasing over the years and dates back to the cold war when US Navy pilots were periodically attacked by lasers emanating from Soviet naval vessels and spy trawlers," Jane's said.
High-powered laser systems are increasingly being used to down or disable drones. Their use against humans is strictly prohibited. Both the US and China are signatories to the UN's Protocol on Blinding Laser Weapons, which bans their use on humans except for "incidental or collateral effect of the legitimate military employment of laser systems."
"China has always complied with international law and the laws of the host country," the Middle Kingdom's Ministry of Defense said in a statement. ®