Special report This week, one year after the US government's General Accountability Office (GAO) formally recommended that it do so, the Federal Communications Commission (FCC) moved $8bn it held in a private bank to the US Treasury.
But even though the move has long been planned for and anticipated, it has caused a furious reaction from the organization's own commissioners as well as lawmakers who are concerned it will result in money being pulled away from citizens and given to giant corporations.
The $8bn is the regulator's Universal Service Fund – a program used to subsidize telephone bills and broadband connections for lower-income citizens across the nation. Everyone pays into that fund, typically through a small monthly fee, around 9 cents, on your phone bill.
The FCC has been looking at moving the funds for several years and in preparation for the move, the organization that oversees the fund and its disbursement, the Universal Service Administration Company (USAC) prepared a webpage, complete with video, to explain the move and what changes companies need to make.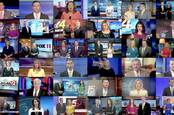 Civil war erupts at top of FCC over Sinclair's creepy grasp on US telly
READ MORE
Which makes it all the more baffling that the long-planned move was greeted with conspiratorial fury by one of the FCC's own commissioners.
"In the dark of night last week, without taking any vote the FCC moved billions of USF dollars to a new account," railed Jessica Rosenworcel on Twitter. "In doing so it sacrificed $50 million in annual interest that could have been used to support rural broadband, telemedicine & internet in schools. That's a shame."
Two days later, Rosenworcel was joined by her fellow Democratic commissioner Mignon Clyburn, who also took to Twitter to complain. "The transfer of USF dollars to the US Treasury is now underway," she complained. "What does this mean for us? A loss of more than $55,000,000 in annual interest which could have provided service to 495,495 Lifeline subscribers. Fiscal responsibility? Not!"
Congress critters
And then lawmakers got involved. Representatives Frank Pallone (D-NJ) and Peter Welch (D-VT) put out a fiery statement saying that they were "dismayed to learn" about the move and noted it had been done with "without the benefit of GAO's further analysis, without telling his fellow Commissioners, without input from the millions of Americans who depend on these funds, and without notifying Congress."
The move was "just the latest evidence of Chairman Pai's casual disregard for the public's input and determined avoidance of Congressional oversight." FCC boss Ajit Pai had, they argued, acted unilaterally and his decision "will cost recipients tens of millions of dollars a year."
It's not clear why everyone is pretending the decision came as a surprise. The same lawmakers that complain about being "dismayed to learn" about the move had actually written a letter [PDF] on this very issue to the GAO back in January, in which they asked it to review the plan to move the funds.
The GAO seemed unlikely to grant that review seeing as it had been the GAO itself that had recommended the move in a report in May 2017.
In that report [PDF], the GAO noted that the program had quite a few flaws – the most glaring of which was that there were insufficient controls over who actually received funding, and limited auditing to ensure that companies were paying the correct amount into the fund.
Some were overpaying, it noted. But rather than go back to those companies and tell them – which should result in folks paying a little less on their bills – whenever auditors found any overpayment that decided to, um, say nothing about it.
Rigorous
The GAO report notes that the White House's Office of Management and Budget (OMB) "observed that USF funds do not enjoy the same rigorous management practices and regulatory safeguards as funds for other federal programs."
And it said that while the FCC has, for several years, planned to move the money to the Treasury from the private bank account (which charges $1.5m in annual fees) in order to "improve management and oversight of the funds", things were going inexplicably slowly. It recommended that the FCC speed things up – which it now has.
So why do we have Democrats – including two of the FCC's five commissioners – complaining about a move that should provide greater accountability for public funds?
The argument being put forward is that the fund benefits from interest at the private bank. But the real reason that people aren't able to say out loud is that the FCC Republican leadership is, like many Republicans, opposed to any form of subsidy program and the money is going to be moved away from them.
Ajit Pai promised lawmakers back in October that he would never do anything to undermine the fund. "I would never condone any actions that undermine the USF's financial stability," he wrote [PDF]. "It would be impermissible for USF monies to be spent for any purpose other than universal service."
The problem is that no one believes him. And for good reason.