Ah, I see
On the same day that the $8bn was moved, Pai put out a statement [PDF] noting that there will be a 15.52 per cent cut in universal service support.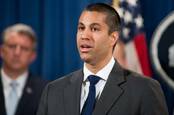 FCC boss to block 'national security risk' companies (cough, Huawei, ZTE) from US's $8.5bn broadband pot
READ MORE
"The prior Administration's budget control mechanism has created constant uncertainty for small, rural carriers, endangering their ability to make long-term investment decisions to bring high-speed broadband to the millions of Americans who still lack it," he claimed. "That's why earlier this year we allocated $180 million to such carriers as a stop-gap measure to avert budget cuts for the current funding year."
Pai then paints himself as a savior, noting that he is going to put forward "potential reforms to our rules to give small carriers greater investment certainty and to create incentives for more efficient operations."
Once the money is in the Treasury, it becomes part of a much, much bigger fund with different spending rules. As a result, it becomes far more likely that the funds won't be spent on subsidizing people's bills but will instead be handed out as part of whatever the FCC decides represents an effort to bridge to the digital divide.
Given Pai's close relationship to the telecoms industry – which he is supposed to be overseeing – it is only a matter of time before those funds magically end up in the pockets of multi-billion-dollars corporations, subsidizing their network expansion, rather than reducing the cost of phone calls and internet access for lower-income folk.
In the same GAO report that recommended moving the funds to the Treasury, one of the explicit advantages given was that the FCC had itself noted that "having the funds in the Treasury could allow USF payments to be used to offset other federal debts."
What would you like, sir?
The FCC majority has been going out of its way to give the telco industry what it wants, including stacking its advisory committee with mobile phone company reps and purposefully restricting the impact of local government officials.
It has been pushing and proposing measures to allow for much cheaper expansion of 5G technology – music to mobile phone companies' ears - and it has repeatedly made the ludicrous claim that mobile internet is equivalent to fixed-line broadband.
The most outrageous effort comprised of trying to redefine broadband to cover mobile networks and reduce benchmark speeds. That effort was one step too far and had to be abandoned.
The truth is that Pai and his fellow Republican commissioners are trying every way they can to channel money away from people and to large corporations. The move of $8bn to the US Treasury brings greater accountability – but accountability that the federal government i.e. the Republican White House decides upon.
While it was still at the USAC's private bank, the FCC had to make proposals and push them passed its Democratic commissioners and lawmakers. Now it has plausible deniability.
While everyone can applaud the idea of greater financial accountability – and, it should be noted, FCC commissioner Michael O'Reilly is pursuing a noble effort to force states to stop siphoning off emergency funds for their own spending efforts – the truth is that this move is about shifting money to programs that the current FCC leadership prefers.
Boost
As just one example, the FCC recently announced a $500m "boost" for rural broadband deployment. In reality, the cable industry had asked for the additional $500m to be added to an existing $2bn rollout program in order to cover the additional cost of it having to meet the broadband standard of 25/3Mbps.
The industry had been hoping the FCC would come through on the "mobile is equivalent to fixed line" argument and so only require it to provide 10/1Mbps speeds. Faster is more expensive. So when the effort to downgrade America's internet failed, the cable companies just asked for more federal funds – and got them.
At the time, people wondered where this additional $500m was going to come from. Wonder no more. ®