This article is more than 1 year old
Google will vet political ads to ward off Phantom Menace of fake news
Mountain View's Empire Strikes Back against election meddling
Google is overhauling its political advertising system in an effort to crack down on shady election ads.
The Chocolate Factory says it will require additional verification and attribution for political ads that run on its search results page, including a new requirement that anyone paying for a political ad spot be a US citizen.
"That means advertisers will have to provide a government-issued ID and other key information," writes Google senior VP Kent Walker.
"To help people better understand who is paying for an election ad, we're also requiring that ads incorporate a clear disclosure of who is paying for it."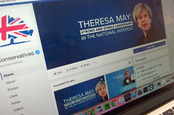 How the Facebook money funnel is shaping British elections
READ MORE
In addition to the screening and disclosure requirements, Walker says the biz will be creating a searchable library of election ads that appear on Google. Later this summer the Mountain View ads giant will also be drafting its first election ad transparency report.
"Our work on elections goes far beyond improving policies for advertising," boasts Walker.
"We're investing heavily in keeping our own platforms secure and working with campaigns, elections officials, journalists, and others to help ensure the security of the online platforms that they depend on."
This sudden commitment to electoral integrity didn't come out of the blue for Google. The Chocolate Factory, along with Twitter and Facebook, has taken heat for its role in helping both foreign and domestic political groups in the US covertly spread dubious (some would say "fake") news sites with the aim of influencing election outcomes and swaying public opinion on key issues.
"For over a decade we've built products that provide information about elections around the world, to help voters make decisions on the leadership of their communities, their cities, their states and their countries," Walker said.
"We are continuing that work through our efforts to increase election advertising transparency, to improve online security for campaigns and candidates, and to help combat misinformation." ®