Supermicro has estimated revenue growth in its Q3 of fiscal '18 ended 31 March but the final audited numbers are still being worked out as part of a multi-quarter dispute with NASDAQ over reported transactions.
The motherboard and whitebox server maker reckoned its revenues were somewhere between $785m to $795m, up roughly 25 per cent on the year-ago quarter, whose number is itself still in question. Supermicro has yet to confirm profit because there is no accurate revenue number.
At the quarter's end, it tallied $136m in total cash, cash equivalents and short term investments and said its bank debt stood at $186.3m.
Tracking Supermicro is like trying to hold course in a sailing ship with no compass and fog patches swirling all around. The firm has yet to report final audited quarterly results for fiscal '18 following the discovery of sales accounting errors affecting its fiscal '17.
The audit committee has completed one investigation and is now carrying out additional testing supposed to be "nearing completion", said Supermicro.
The business said extra time is needed to assess the impact of what is discovered with more testing of historical financial records before it can file results for the full prior year. (the 10-K).
It is faced with delisting from Nasdaq for not filing these quarterly and annual reports, and presented an updated compliance plan at a Nasdaq Hearings Panel on April 26, requesting permission to further delay filing up to 24 August, 2018. The extent to which the results may need to be restated has not been confirmed and NASDAQ has not yet granted the extension.
Supermicro said next quarter revenues are expected to be between $800m and $860m.
+Comment
The forensic accounting investigators must be tearing hair out.
Behind all this the company continues to spit out new products at a fast clip, the latest being a 1U server and 1U flash JBOD, both holding up to 256TB of flash using 32 of Intel's DC P4500 8TB ruler SSDs, both with NVMe drive connectivity.
Supermicro president and CEO Charles Liang said:
"With more than triple the all-flash storage density of previous 1U solutions, this Supermicro system will take us to petabyte scale in a single 1U system in the near future."
The company said: "This 1U system will support a half petabyte of NVMe storage capacity this year and a full petabyte early next year using the EDSFF standard."
That means, surely, 16TB DC P4500 rulers coming out later this year and 32TB ones early in 2019? Thank you 96-layer 3D flash technology.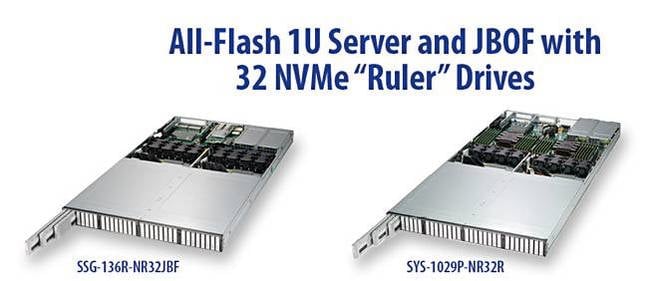 That's this SSG-136R-NR32JBF flash ruler JBOD and SYS-1029P-NR32R server.
Supermicro said up to 12 hosts can be directly connected to the 1U pooled NVMe storage in these systems. Alternatively, hundreds of hosts can be connected over NVMe-oF (Ethernet-based NVMe fabric).
The company brought out a Samsung ruler flash-equipped server in January with 288TB of capacity, promising 576TB later this year. It's betting on two horses in the flash ruler race.
The server-maker will be hoping nothing happens that prevents it from spitting out those ruler-based systems. ®
Similar topics