This article is more than 1 year old
Hacking charge dropped against Nova Scotia teen who slurped public records from the web
Police opt to end charade over document download row
Cops in Halifax, Nova Scotia, Canada, will not pursue charges against a 19-year-old fella who had dared to download a cache of public documents.
In a brief statement issued Monday, police said that, following nearly a month of investigation, there were "no grounds to lay charges" in a case that had drawn harsh criticism from digital rights groups. The young man had shown no criminal intent in fetching freely available files that anyone could have slurped, the plod admitted.
"This was a high-profile case that potentially impacted many Nova Scotians," Superintendent Jim Perrin, Officer-in-Charge of Criminal Investigations said of the case.
"As the investigation evolved, we have determined that the 19-year-old who was arrested on April 11 did not have intent to commit a criminal offence by accessing the information."
The Canadian teen had faced the possibility of jail time for alleged unauthorized access to a computer when, earlier this year, he automatically downloaded some 7,000 documents from the province's Freedom of Information and Protection of Privacy website.
This website is an online database of documents published in response to freedom of information requests: if you request some info, and pay the fee, any documents ultimately dug up and handed over will eventually be popped onto the site for everyone on the planet to see.
Arguing that some of the files copied from the portal contained personal information on Canadian citizens, police tracked down the young man, and raided his home in early April on suspicion of hacking.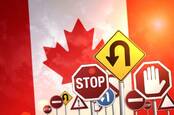 You're a govt official. You accidentally slap personal info on the web. Quick, blame a kid!
READ MORE
The case became an international story when digital rights groups criticized the Nova Scotia government for heavy-handed tactics against someone who was simply looking at publicly available data.
For many, the case was seen as red-faced bureaucrats trying to cover up their own data management blunders by blaming someone who had done little more than enter a curl command a pull down a collection of documents.
A bunch of records – which contained thousands of people's addresses, social insurance numbers, and other sensitive details – had accidentally been placed online in non-redacted PDFs by officials. These files were subsequently slurped by the teen after he ran through the document ID numbers from 1 to 7,000, drawing in hundreds of pages of released information as well as inadvertently pulling in data government staffers should never have dumped on the internet in the first place for all to see.
Shortly after the story took off, a GoFundMe page was set up for the teen to help cover legal bills. With the case now dropped, organizers say they are looking to repurpose the money into a scholarship fund. ®