That Drupal bug you were told to patch weeks ago? Cryptominers hope you haven't bothered
Cryptocoin malware outfit takes aim at 'Drupalgeddon' bug
---
A set of high-severity vulnerabilities in Drupal that were disclosed last month are now the target of widespread attacks by a malware campaign.
Researcher Troy Mursch of Bad Packets Report has spotted hundreds of compromised Drupal sites being used to host "cryptojacking" malware that uses the CPUs of visitors to mine cryptocurrency via CoinHive.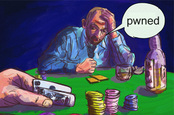 Patch Drupal now: Yet another critical website bug found – a sequel to 'Drupalgeddon2'
READ MORE
Mursch says the sites all appear to have been compromised via their Drupal CMS software, all of which were outdated and vulnerable to the 'Drupalgeddon2' remote code execution flaws.
While the first compromised pages were spotted on the websites of the San Diego Zoo and the Chihuahua, Mexico government site, the researcher quickly found the attack to be far more widespread.
"After I analysed the IoCs, I was able to locate over 300 additional websites in this cryptojacking campaign," Mursch wrote. "Many discovered were government and university sites from all over the world."
In total Mursch said, around 348 individual sites had been compromised by this specific malware operation.
The attackers were able to exploit the flaws and inject code into individual pages that would then run mining code whenever a visitor loads the page.
"This is yet another case of miscreants compromising outdated and vulnerable Drupal installations on a large scale," writes Mursch. "If you're a website operator using Drupal's content management system, you need to update to the latest available version ASAP."
It's not exactly a new revelation that attackers target-high-profile vulnerabilities in the wild. Since the Drupal bugs were first revealed in April along with their patches, experts have been advising administrators to make sure they have tested and applied the fixes as soon as possible.
That the attackers were able to infect hundreds of sites, many run by governments and educational institutions, shows how potentially widespread the vulnerability appears to be amongst high-value targets.
It should also be yet another reminder to any admins dragging their feet on checking their Drupal installations for the bug: the bug is being actively exploited in the wild, the time to patch is now. More accurately, the time was about three weeks ago. ®
Similar topics
Narrower topics