This article is more than 1 year old
Africa's internet body hit with sexual harassment cover-up claims
Calls for vote of no confidence in Afrinic board
Special report The body responsible for allocating internet network addresses across Africa has been enveloped in yet another scandal, resulting in calls for the entire board to step down.
Afrinic is one of the world's five regional internet registries (RIRs) and plays a critical role in the internet's global infrastructure. But this week some of its members may call for the dissolution of the entire organization after its Board refused to table a motion of no confidence in themselves.
That no-confidence call followed the resignation of Afrinic's chair and vice-chair in response to a sexual harassment case, the delayed release of a report into related management failings, a failed effort to force through an unpopular policy, and growing factionalism inside the increasingly political body between French-speaking and non-French speaking members.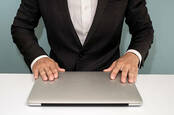 Afrinic shuts down IP address shutdown over internet shutdowns
READ MORE
For a body that is supposed to serve a purely technical function and whose members are largely ISPs that want Afrinic to run as smoothly and drama-free as possible, the situation has become untenable. It is rumored that board members from other regional internet registries are flying to the organization's meeting this week in Dakar, Senegal in an effort to keep it afloat.
At the heart of the scandal is a formal complaint made in March by the company's head of external relations, Vymala Poligadu. She alleged that she had been sexually harassed by Afrinic's chair Sunday Folayan, vice-chair Hytham El-Nakhal and finance director Patrisse Deesse. She also alleged that they had been actively plotting to get her fired from her position.
The internal report [PDF] detailing Poligadu's accusations was then leaked onto the organization's discussion mailing list by an anonymous poster, writing in response to a complaint by another member about high staff turnover.
In your own words...
While such issues often come down to accusation and counter-accusation, the report included screengrabs of text messages between Afrinic chair Folayan, CEO Alan Barrett and vice-chair El-Nakhal that appear to show a dysfunctional and toxic internal environment (although, it should be noted, the messages show CEO Barrett repeatedly pushing back against Folayan's efforts.)
Poligadu claims in the report that the messages were sent to her by another female colleague – former Afrinic marketing manager Nadege Gaju – who, incredibly, says she was sent the text-message screengrabs by Folayan himself. Folayan subsequently acknowledged that the messages were real and had been sent by himself.
"Sunday Folayan was bullying her and threatening her if she does not cooperate he will fire her just like he will make fire Vymala," Poligadu alleges in the report. "To prove his power, he sent her screenshots of conversations he had with Alan Barrett and Haytham Nakal, on the plotting to fire me." The messages do appear to show Folayan repeatedly criticizing Poligadu and pressuring CEO Barrett to fire her.
Other messages between Gaju and Folayan appear to show him repeatedly propositioning her. Gaju later complained that Folayan was "constantly trying to find ways to sleep with me." Afrinic was "no environment for a woman," she noted.
After the report was leaked, pressure grew on Afrinic's board to take action but for a chair that had boasted he could hire and fire anyone he wanted – including the CEO – some felt there was an unreasonable delay in taking action.
The board eventually agreed to a review of the situation by what it said was an independent committee, and both the chair and vice-chair subsequently stepped down from their positions pending the investigation's report.
Denial
"While I categorically deny any claims of any harassment leveled at me, and believe these allegations are entirely spurious… it is my responsibility to step down as Chair, pending the conclusion of the investigations on the harassment claims," Folayan wrote.
The report was eventually handed to Afrinic's board on May 2 but has yet to be published, further adding to concerns that the board is hiding information and that Folayan and El-Nakhal are working behind the scenes to clear their names.
Those concerns were realized this week when board member Abibu Ntahigiye claimed that the investigation committee was "satisfied that there was no evidence of harassment, bullying or intimidation by Board members" but refused to release the actual report citing confidentiality concerns.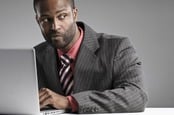 African IP address body exec half-apologizes for 'Whites are taking over' race-row email
READ MORE
The only issue of concern, Ntahigiye says, was that Folayan had broken a non-disclosure agreement by providing screengrabs of his discussions with the CEO and vice-chair.
But that explanation has not sat well with members, many of whom have started demanding that the report be released in full.
Growing anger has also spilled over onto the organization's mailing lists, with one member writing about a "cabal on the board" who were guilty of "sexual harassment, threats and witchhunts." In response, the organization started deleting and blocking posts.
A formal proposal for a no-confidence vote in the entire board was put forward and then - despite initially agreeing to put it on the agenda - the board then backtracked and refused to allow a vote on the proposal.
"The Board at a special meeting held on the 18th of April 2018 had the opportunity to reconsider your request to include a standard resolution in the upcoming AGMM agenda," said a response to the resolution's proposer.
"The Board has decided not to include it in the agenda inline with section 12.14(ix) of the bylaw. However, the Board suggests that the item can be discussed during the Open Mic session should members be interested."
Confidence man
That was the final straw for some members who now intend to push a special meeting of the organization in order to force through a no confidence vote. But some are prepared to go even further thanks to Afrinic's unusual make-up.
Under its governance structure, Afrinic's board members are also its sole stakeholders, meaning that they have full control over the organization. In addition, the organization has set up an unusual – but very African – "council of elders" where old Afrinic board members retain a significant degree of influence over its strategic direction.
While this approach should, in theory, provide a stable governance platform, insiders say that it has led to an extremely political environment, with Francophones and non-French speakers in two warring camps. A range of accusations from favoritism to misdirected organizational funds have also cropped up.
Chair Folayan's text messages, quoted in the sexual harassment report, included derogatory statements about the "francos" and head of external relations Vymala Poligadu claims she was targeted within the organization because she is a French speaker.
Repeat offender
It's worth noting at this point that this is far from the first time Afrinic has been the centre of a controversy.
Two years ago, it was embroiled in a race row after its former CEO, Adiel Akplogan, accidentally posted a private message to a public board in which he warned that there was a "clear racial fight for the white to take over."
That outburst followed the news that Mike Silber – a white South African – was planning to run for a board seat. But where some saw race, others saw corruption, and Silber's candidacy was seen as an effort to bring greater accountability to the organization, particularly when it comes to the disposal of Afrinic's last remaining blocks of IPv4 addresses, which are worth millions of dollars in the open market.
The next year, Afrinic was again the centre of global controversy when a proposal was made to punish African governments that shut down their country's internet for political or non-emergency reasons. The approach would have seen such governments refused additional IP addresses for one year following any violation of an anti-shutdown policy.
While some approved of the stance, others feared it would drag Afrinic into a larger political arena. The close relationship between government and industry in many parts of Africa was then quickly realized and those behind the proposal faced retribution within the organization.
After years of problems, and every indication that things are actually getting worse, members have started actively proposing that it may be time to wind up the entire organization and start again.
As Afrinic begins a week of meeting in Dakar, the topic is likely to overshadow everything else. What happens by the end of the week is anyone's guess. ®