When legendary comedy troupe Monty Python staged "Live (Mostly): One Down, Five to Go" in 2014, its surviving members filmed themselves taking what they promised would be their final bows together.
So how can we then speak of a new Python movie in the headline?
Because, according to entertainment industry outlet Deadline, the Monty-Python-and-the-Holy-Grail-derived musical Spamalot is headed for the big screen.
A chap named Casey Nicholaw will direct, having already choreographed its first run on Broadway. Nicholaw has since directed Broadway hits The Book of Mormon and Mean Girls.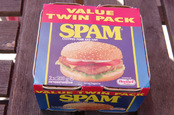 In a touching Monty Python tribute today, Microsoft's Office 365 makes everything spam
READ MORE
Python's Eric Idle will write the script and produce. He also wrote the lyrics and music (with John Du Prez) for the stage production.
Spamalot was billed as "A new musical ripped off from the motion picture Monty Python and the Holy Grail."
Deadline reports the movie is "more than just an adaption, it's the movie musical based on the Broadway musical, based on a movie that is based on the legend." Or should that be "a cinematic ripoff of the musical that ripped off the movie, based on a legend"?
However it's described, the flick will give us all the chance to hear decades-old jokes told anew, along with the sound of cash being shovelled in the direction of the Pythons. ®