This article is more than 1 year old
It's a wrap: Gone Gartner part II, Flashdance and, er, Hardware Hackers
A week in storage mov(i)es... be happy we didn't name-check Failure To Launch
It has been an eventful week in storage with the introduction of a "hardware-defined storage" platform, a blast of helium, another Gone Gartner moment and more. So slap on those 3D glasses, get your popcorn ready – and enjoy our rapid-fire shorts and entertaining trailers.
Storage newcomer Storbyte is introducing – wait for it – hardware-defined storage, saying that the storage industry, with its near-obsession with software-defined stuff and complacent reliance on raw commodity hardware, is losing sight of the primacy of hardware and possibilities for hardware innovation.
That's unexpected. The product looks a neat mix of commodity drives corralled together with ASICs and software. There's also a backup supplier acquisition/merger in this roundup of storage news. But we'll start with a look at helium-filled disk drive reliability. Over to you, Backblaze.
Backblaze on helium-filled disk drives' reliability
Backup, archive and general-storage-as-a-service cloud supplier Backblaze has compared the reliability of its air-filled drives and helium-filled disk drives.
It normalised the drives' failure rating for hours spent operating and found 19,065 8TB, 10TB and 12TB helium drives had a 1.06 per cent annualised failure rate, while 24,281 8TB air-filled drives experienced a 1.61 per cent failure rate.
Small percentages but 1.6 per cent of 24,281 is 391 air-filled crashed drives, while 1.06 per cent of 19,065 is 202 drives.
This will encourage Backblaze to buy more helium-filed drives.
Hazelcast
Hazelcast, the in-memory data-gridder, has released v3.10 of its IMDG software, featuring a conflict-free replicated data type (CRDT), a Flake ID Generator and several split-brain protection enhancements. The CRDT implementation has a CRDT PN-Counter (positive-negative counter). CRDT is a specially designed data structure used to achieve strong eventual consistency. The Flake ID generator is used to generate cluster-wide unique identifiers.
Previously only Map, ICache and ReplicatedMap supported merging after a network partition had occurred. In IMDG 3.10, split-brain merging policies are available for a host of new structures: ISet, IList, IQueue, Ringbuffer, MultiMap, IAtomicLong, IAtomicReference, IScheduledExecutorService and CardinalityEstimator.
It has been extended to other structures including ISet, IList, ISemaphore, ICountDownLatch, IReplicatedMap, IAtomicLong, IExecutorService, IDurableExecutorService, IScheduledExecutorServicem, IMultiMap, IRingBuffer, CardinalityEstimator (HyperLogLog), IAtomicReference and CRDT PN-Counter.
Kaseya buying Unitrends
Kaseya, a supplier of data management products to MSPs and SMBs, is merging with backup vendor Unitrends. Both companies are owned by PE house Insight Venture Partners and Kaseya CEO Fred Voccola said Unitrends will operate as a wholly owned Kaseya subsidiary with Paul Brady, its CEO reporting to him.
Why merge the two? Some 90+ per cent of Kaseya revenues come from the MSP market, while much of Unitrends' revenues come from SMBs and it wanted to penetrate the MSP market. Now it can use Kaseya's channel to do just that.
Also Kaseya revenues are split 50 per cent between North America and the rest of the world, while Unitrends has 90 per cent of its revenues coming from North America. The Kaseya channel represents an open door to expanded sales outside North America.
Kaseya's Unified Backup offering uses a Unitrends engine, Kaseya reckoning Unitrends' technology is first class. So this two-month-old OEM relationship has progressed to an ownership relationship.
Voccola said Kaseya will carry on being an open company, continuing its relationships with Veeam and Acronis – Kaseya Cloud Backup being powered by Acronis – each of whose products he said has its own niche.
There is also an integration with Datto. Voccola said: "We believe we can make these integrations stronger."
Rubrik, Veeam and Gartner
A third Gartner backup research director has joined Rubrik and Gartner has pushed back the 2018 backup MQ and critical capabilities report to next year.
We already knew four had left, with Veeam poaching SVP and distinguished analyst Dave Russell from under the nose of Rubrik over the weekend, giving Veeam and Rubrik two Gartnerites each.
Robert Rhame is the third man to join Rubrik, the object storage biz told us.
The order of the gone-Gartnerites backup analysts now looks like this:
Dave Russell has gone to Veeam
Pushan Rinnen has gone to Rubrik
Ray Scafer has gone to Rubrik
JP Corriveau has gone to Veeam
Robert Rhame has gone to Rubrik
Gartner bigwig Mike Harris, SVP, IT Leaders and Tech Professionals Research, sent out a mail to various Gartner clients, saying: "I want to assure you, notwithstanding these departures, that Gartner is taking steps to maintain the service and unbiased analysis that you expect from us."
Three of the departed analysts were the authors of the 2017 "Magic Quadrant and Critical Capabilities for Data Center Backup and Recovery Solutions" report. Because they've gone:
We have decided to delay the target publication date of the updates for these reports until 2019. This has been done to ensure complete objectivity, impartiality, and integrity in our research process, and to be confident that we continue to resource this project with analysts who can deliver the highest levels of research quality.
Harris told recipients their confidential information was safe: "I want to assure you that we have taken steps to safeguard confidential information shared with these analysts. You should also know that our analysts are required to execute agreements with Gartner which, among other things, prohibit them from using or disclosing confidential and proprietary business information learned in the course of their employment."
In a year or two it will have blown over. Yes, these folks were Gartner gods once, people will say, but in the future they will be ordinary paid evangelists, strategists or competitive analysts, and new gods will strut the Gartner research temples.
Storbyte
Storbyte has launched its Eco-Flash one of flash drives, claiming its arrays maximise efficiency, normalise and improve IOPS and performance, increase rack density, and eliminate the wear-levelling and life expectancy conditions associated with conventional flash memory.
Its Eco-Flash drives have 16 component SSDs. Each group of four is managed by a Hydra ASIC and there is another Hydra managing the whole shebang. It provides RAID 0, 5, 6 and N, and data is striped across all 16 SSDs.
The Hydra product name is the SB-SA117-BR 16-port Hydra Chip. The chip's technology eliminates, Storbyte says, write cliff effects in over 99 per cent of all use cases. The write cliff term is used by Storbyte to refer to "dramatic" drop-off in performance that occurs in SSDs as the drive is filled with data, garbage collection processing starts, the drive stops being fresh-out-of-the-box (FOB).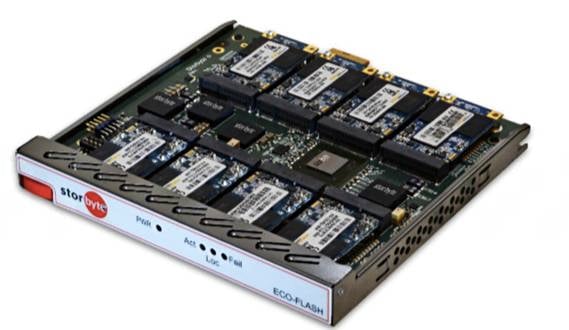 The Eco-Flash drive
Storbyte claims guaranteed read/write performance regardless of block size in 1KB to 1GB block size range.
This provides 16x the performance of a single SSD, 15 – 30GB/sec and 900K-1.5 million IOPS – and the 16 SSDs need 75 per cent of the electrical power of 16 separate SSDs, we were told.
It also claimed that, on average, the Eco-Flash design provides a usable 15 times extended drive life based on the patented capabilities of the Hydra code and algorithms.
There are 4TB, 8TB, 16TB and 32TB models available.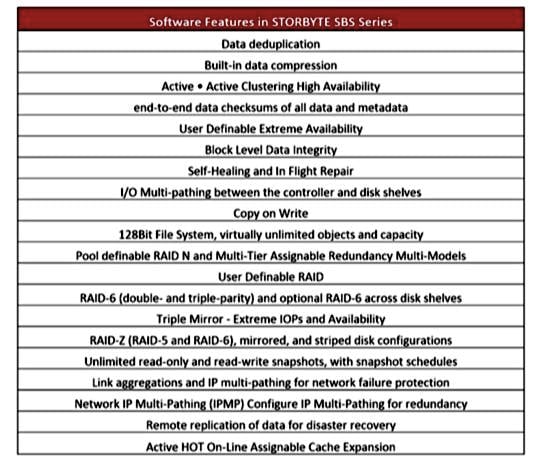 Built-in, all-inclusive Eco-Flash software features
The company said the Eco-Fast drive can be used to build 4-drive !U products, 16-drive 2U systems, and a 48-drive, 4U offering. The IU SBS 1.4 offers 128TB raw capacity, with the 2U SBS 2.16 having 524 raw TB and 2.62TB after compression. The SBS 4.48 is the 48-drive, 4U product, with 786 raw TB.
Eco-Flash supports a blend of Ethernet, iSCSI, NAS and InfiniBand primary connectivity simultaneously. Users can store up to 786TB all flash raw capacity in a standard 4U rack or add Storbyte's 4U 1.18PB spinning disk JBOD expansion units enabling a Hybrid deployed, 11.4PB raw capacity, in a single 42U rack at a cost of $0.5/GB raw capacity.
Storbyte's CEO is Steve Groenke and its chief evangelist and design architect is Diamond Lauffin, whom Storbyte says introduced disk-to-disk backup as the founder of Nexsan Technologies.
Lauffin said: "The industry has lost sight of the importance of storage hardware improvements, preferring to focus on software and services instead. That's okay, but enterprise users agree these are the frosting and the sprinkles on a cake and for many they have forgotten the importance of how to make a great cake."
Shorts
Backup and restore supplier Bacula's Enterprise Edition 10 has expanded capabilities for Xen – Proxmox, MSSQL, BCloud Service, for multi-tenant, self-service backup, and Global Endpoint Deduplication. Physical, virtual and cloud environments are protected by the software.
Cavium has announced the availability of a unified driver that enables native support for FC-NVMe protocol for servers running enterprise Linux from Red Hat and SUSE.
Software-defined storage supplier Compuverde has confirmed a joint offering with Mellanox for a unified platform supporting file, block and object storage. It combines Compuverde's storage software with Mellanox's 10/25/40/50/100Gbit/s Ethernet hardware to provide linear scalability and performance for up to hundreds of nodes, millions of IOPS and exabytes of data in a single cluster (PDF).
DataStax, unable to withstand the "Dummies" books lure, is publishing a "Dummies" book on "Designing a Distributed Cloud Database for Dummies", authored by Patrick McFadin, its VP of Developer Relations. The company supplies an always-on, distributed cloud database built on Apache Cassandra.
Excelero, a supplier of NVMe-over_fabrics accessed block storage, has been assigned US patent #9,971,519 — its second US patent — governing a technique of performing NVMe access directly from a chip. This intellectual property (IP) will be utilised in upcoming SmartNIC-based versions of its flagship NVMesh Server SAN and provides customers with more efficient ways to use distributed NVMe using the open standard NVMf. It's in talks with NIC manufacturers about licensing this technology, which will help accelerate not just NVMesh, but also NVMf from any vendor.
Iron Mountain has a Iron Cloud Critical Protection and Recovery (CPR) offering which enables companies to recover from potentially destructive cyberattacks by isolating copies of essential data, disconnecting it from any network and placing it within Iron Mountain's big fortified hole in the ground. In the event of an attack or integrity-threatening event customers can validate it using the Iron Cloud virtual cleanroom and quickly restore critical business operations.
Portworx has released PX-Enterprise 1.4, and announced a Red Hat certification for OpenShift Container Platform. PX-Enterprise is available in the Red Hat Container Catalog. It says this enables containers to run hyper-converged with data on Red Hat OpenShift Container Platform even in the event of pod rescheduling, enabling ultra-fast IO. Enterprises can run high performance stateful applications like databases, big and fast data workloads, and machine learning applications on the Red Hat OpenShift Container Platform.
Push Technology, a supplier of real-time intelligent data streaming and messaging, announced its Diffusion Intelligent Data Platform v6.1.  Diffusion is used by developers to create and manage data models and 6.1 introduces data lifecycle and ownership functionality, that combines with a set of dynamic data model creation, management, and distribution tools in the platform.  It uses uniquely identified data streams, called Topics, to deliver data to clients via a pub/sub interaction model.
The Storage Networking Industry Association (SNIA), the Distributed Management Task Force (DMTF), and NVM Express Inc have a new alliance to coordinate standards for managing solid state drive (SSD) storage devices. It will define standards to improve the issue of scale-out management of SSDs to improve interoperability and data management of information technologies.
StorageOS announced its persistent storage platform for running containerised applications is generally available. It had an $8m Series A funding round, led by existing investor Bain Capital Ventures with participation from new investors: MMC Ventures in the UK, where StorageOS R&D is located, and 645 Ventures in New York, StorageOS's new US headquarters. StorageOS will use the investment to expand product development and drive global sales.
Its software integrates with Kubernetes, Red Hat OpenShift and Docker to deliver dynamic volume provisioning, data services, performance and ease of use, and works with any application, any infrastructure and any orchestrator.
Storage Made Easy says three of its products have been certified through IBM's Ready for IBM Cloud ISV Technical Validation Program: SMEs Enterprise File Fabric, S3 Explorer and S3 Drive.
Sysdig announced a partnership with Google Cloud to bring container runtime security capabilities to the Cloud Security Command Center (Cloud SCC), a security and data risk platform helping enterprises to gather data, identify threats, and act on them before they result in business damage or loss.
AFA vendor Violin Systems said its Violin Flash Storage Platform product is now available as part of Saturn Business Systems' data centre and cloud offering. SBS supplies integrated IT systems to mid-market and enterprise accounts.
People
Datera said Dell EMC veteran Narasimha Valiveti has joined it as the VP of Engineering and Product. It took some time to replace Sharad Srivastava, who left for MapR in Sep 2017.
Former Adobe CFO, Mark Garett, is a new member of data-warehouse-in-the-cloud supplier Snowflake's board of directors. Snowflake CEO Bob Muglia said: "He brings unparalleled experience in technology, finance and SaaS business models that will help Snowflake continue to build a strong foundation to support our rapid growth. Mark is one of the best leaders in the technology industry and we welcome him to the Snowflake board."
Surely a monster IPO, or massive acquisition by Amazon, Google or even Microsoft, is coming. ®