So when can you get in the first self-driving car? GM says 2019. Mobileye says 2021. Waymo says 2018 – yes, this year
General Motors CTO chats to El Reg about robo-ride timings
After several years of hype about autonomous vehicles – cars that can truly independently drive themselves – the big question has become: when will people other than beta testers get in them?
And the answer, according to General Motors' chief technology officer Jon Lauckner is, incredibly, next year: 2019. That's when the monster automaker will put out its fourth-generation autonomous vehicle, images of which Lauckner will be sharing this afternoon at the Intel Capital conference in Palm Desert, California. It won't have a steering wheel, nor pedals, nor any instrument panels.
That's a two-year jump ahead of what another key player in the autonomous car industry, Intel-owned Mobileye, revealed on stage the previous night. Its chief exec Amnon Shashua told attendees that it will put its first fully autonomous car on the road in 2021 – which will coincide with the next generation of LiDAR and radar sensors.
But not to be outdone, the other big contender – Google-stablemate Waymo – popped up on stage at the Google IO conference this week, with its boss John Krafcik claiming that it will beat both companies, and have a robo-ride on the roads picking up passengers later this year.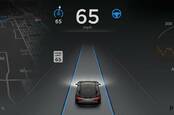 Dear Tesla, stop calling it autopilot – and drivers are not your guinea pigs
READ MORE
The race really is on. And it seems Lauckner was right when he told The Register this morning that GM and Waymo were way out in front of the rest of the industry. Lagging behind: Uber, Tesla, and a raft of other companies all desperate to get in on the multi-billion-dollar market.
Of course, it's not quite as simple as that. For starters, the autonomous cars that GM and Waymo are talking about are taxis. Car owned and run by them for ride sharing. Don't expect to be able to buy one of these vehicles for several years – and that's because they would be prohibitively expensive.
"The autonomous system costs more than the vehicle itself," Lauckner told us with a laugh. But over time and with scale, he has no doubt that the cost will dramatically fall, bringing the technology within reach of the market.
Custom silicon
One of the reasons Lauckner is at the Intel Capital conference is because a big part of that cost reduction will come with the development of custom chips specifically designed to deal with the vast amount of data that all the sensors in such a car throw off. The computing power required to run the system is huge right now: when passengers get into an autonomous taxi in the next year, they will effectively be climbing inside a server farm on wheels.
From the perspective of GM and Waymo, they have already invested huge amounts into getting the tech where it is now: putting their own autonomous vehicles on the road is an opportunity to gather more and more data to improve these systems as they move toward commercialization.
Of course, the car industry is not autonomous or nothing. In the same way we have petrol-powered, hybrid, and electric cars on the road, this technology is going to be added bit by bit into everyday production vehicles.
Lauckner also outlined GM's "semi-automated" system that it continues to update over-the-air: a hands-free Super Cruise driving system.
The system is currently only included in the Cadillac CT6 and only works on freeways in the United States and Canada – and will be specifically geo-fenced to make sure it won't work outside of them – but it contains what Lauckner claimed is three pieces of technology that no one else has: a driver monitoring system; high-precision maps; and an "extremely precise" GPS.
The key element here is "hands free." While Tesla has got in hot water for its Autopilot system that encourage people to let the car do its own thing, drivers are still required or urged to keep their hands on the wheel at all times. And several crashes have helped explain why.
GM is saying it's OK to take your hands off while using its system – although it will still require you to look where the car is going. Glance away any longer that five seconds and LEDs will flash green, then red, then your seat will buzz, and if you still haven't responded, it will start slowing to a stop.
Pilot pile-up
As with a lot of things in this rapidly evolving market though, it is not quite as clear-cut as that. Super Cruise was launched last year, having been delayed from the previous year. And it is far from the first system of its kind: there is Tesla's Autopilot, Mercedes-Benz's Drive Pilot, and Volvo's Pilot Assist.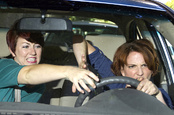 You're all too skeptical of super-duper self-driving cars, apparently
READ MORE
If what Lauckner says is true, however, iterative improvements in SuperCruise may well be the difference between what Mobileye's Shashua calls a "science project" and a system that ordinary car owners can use.
GM's earlier version of Super Cruise was praised as being a cut above the rest – although with Tesla in close competition – but those who tested it still found a lot of bugs, many to do with inaccurate GPS.
GPS signals, while absolutely amazing, are only accurate for the likes of us to around 10 metres, typically. As Lauckner admitted, that can be the difference between being on the freeway and in the trees. But through a partnership with Trimble that corrects distortions in GPS coordinates, GM claims it can now get that down to less than two meters.
There is another kind of precision that is needed for an autonomous vehicle to be safe on the roads: accurate maps.
Mobileye's Shashua spent some of his keynote talking about how the company was planning to crowdsource mapping of roads across the world by pulling data from its cameras (which are fitted in a huge number of cars produced in the past few years) and compiling them to build a more accurate model of the world's roadways.
Without such maps, autonomous cars would simply have to do too much computation on live sensor data to perceive and understand their surroundings and stay safe. With high-quality maps, the vehicles can take all that location data for granted, knowing already fairly confidently where things should be, and focus their computation power on monitoring other cars around it and making sure they don't hit them.
Mapping
The reason General Motors says it will be able to launch autonomous vehicles next year is that it has already done most of that detailed mapping. It paid third party Ushr to develop high-definition LiDAR maps back in 2014.
It is also why while Waymo said it was launching autonomous vehicles this year, it quickly added that it was launching them only in Phoenix, Arizona – where it has been testing its vehicles for some time and has built up a decent bank of knowledge about the region.
In short, autonomous vehicles are coming, and they are coming soon. But the first ones will only be in specific areas, and will only act as taxis.
In the meantime, you can buy cars that have varying degrees of autonomy built in (there is a five-level scale but it's not as clear-cut as you would imagine). Those cars, while not allowing for full autonomy will be critical in getting there, as they provide millions of miles of data and mapping.
Full autonomy will require several advances in sensor technology and computing technology to deal with it. And the predictions, right now, are that this will all come together by around 2021, but typically all predictions in this field are one to two years early.
At which point, you can probably buy yourself an autonomous vehicle. If you can afford it. ®