This article is more than 1 year old
Can't wait for Linux apps on Chrome OS? And you like stability? We'll see you in December, then
First releases will be touch and go. If your hardware can handle it
Google IO On Tuesday, Google told developers at its IO conference in Silicon Valley that Linux applications and command lines are coming to Chrome OS, showed off a few demos – and then shut up about it and published an information-light blog post. So, we decided to dig a little during the event today.
Google has been developing a system that allows your Chrome OS laptop to fire up a container running Debian GNU/Linux in a virtual machine, running your choice of software. The web giant has gone down the containerization route before, when it began porting Android apps to its open-source browser-based security-conscious operating system.
We're told that, with this forthcoming Linux software support on Chrome OS, package managers will work just fine to install programs and dependencies, as will applications built for Linux – all without having to put the machine into developer mode, which somewhat weakens its security defenses and is a bit of a faff.
Chrome OS is powered by the Linux kernel, and includes a virtual machine manager called crosvm that uses Linux's KVM hypervisor. There are other bits of glue, such as these in-container tools, to run whatever programs you want within a Linux VM within a Chrome OS container. Phew!
So, as previously teased, soon you'll be able to run Linux software on your Chrome OS laptop. Great. Although, it must be said, the system is still a work in progress.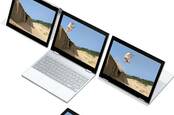 So the 'Year of Linux' never happened. When is it Chrome OS's turn?
READ MORE
Folks familiar with the project's development told The Register that the first "stable" Chrome OS build that will support anything close to full Linux will be version 68, which is due out on July 31. Getting the graphics and sound drivers to play ball is proving particularly tricky, we're told, and some tweaking may be required before you can fire up Linux fully. It will be "fairly stable," but it's not expected to become totally reliable until version 71, due out at the end of the year.
Then there's the hardware requirements. Running Linux will demand a tad more processor grunt, memory, and storage space from the laptop that the Chromium browser environment usually requires. We're told only about half of Google's current Pixelbooks have the capabilities to provide a proper decent Linux desktop developer experience, and the lower-end systems that make up the bulk of Chromebook sales just won't quite have the moxie to handle it.
So developers who want their Linux fix on Chrome OS will have to shell out for a top-end Chromebook to do it. With the base-spec Pixelbook costing $999, and a $650 upgrade charge to max out the specifications, you could be staring at a fair amount of dosh to get what you desire.
Nevertheless, Google is definitely bringing Linux applications to Chrome OS, and everyone is confident that it'll work well. And it definitely sounds interesting. Chrome OS is a tight and tidy operating system, and we're big fans of Debian GNU/Linux. Just don't expect a fully rounded platform before the end of the year at the earliest. ®