The database London cops use to rank people's likelihood of gang-related violence is racially biased, a campaign group has said.
In a report (PDF) published today, Amnesty International said the Gangs Violence Matrix, set up by the Metropolitan Police in 2012, was not fit for purpose and needs to be dismantled.
The group said it breached human rights laws, slamming the Met for a lack of formal notification or appeals processes for people listed on it and poor governance over data-sharing with other authorities.
Branding the database digital profiling, Amnesty added that many of the indicators used by the cops to identify gang members "simply reflect elements of urban youth culture and identity that have nothing to do with serious crime" and are "heavily racialised".
The database, which the Met said aims to "reduce gang-related violence and prevent young lives being lost", has around 3,800 people listed on it – most of whom are young (80 per cent are between 12 and 24), black (78 per cent) males (99 per cent).
In contrast, the black population of London is 13 per cent, while the percentage of black people actually identified as being responsible for serious youth violence in the capital is 27 per cent.
People are added to the database as "gang nominals" and given an automated risk – or "harm" score – based on police info on arrests, convictions and other intelligence.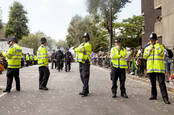 London cops urged to scrap use of 'biased' facial recognition at Notting Hill Carnival
READ MORE
Amnesty said this also includes other sources of information like social media; in response, the Met said that "evidence that someone is glorifying gang violence in a music video posted on social media can be used as an intelligence source" – but it would not include the style of music they listen to.
These harm scores are assigned a traffic light rating – red being the most likely to commit an offence, green the least.
The police will share this data with other authorities, which Amnesty said risks causing long-term damage to individuals by labelling them gang nominals. This is despite more than a third of those in the database never having committed a serious offence; some 40 per cent of people listed have a harm score of 0.
One of the interviewees Amnesty spoke to as part of the report, Martin Griffiths, a trauma surgeon at Royal London Hospital, put it thus: "You put that child on the Matrix, you wrote that child's future. There are no second chances in this society for poor black kids."
Amnesty warned that there was a risk that the "stigmatising 'red flag'" would follow people in future interactions with various authorities, such as housing, education and job centre officials.
The group added that such data-sharing – which also includes the Home Office and criminal justice system – "appears to lack safeguards".
According to the report, one youth worker who had attended meetings between borough officials and other public authorities said data-sharing practices varied.
UK Home Office grilled over biometrics, being clingy with folks' mugshots
READ MORE
"Typically, however, the police openly shared information about named individuals on the matrix with all who attended, with little clarity or safeguards around how the data should be used or shared," the report said.
Further concerns raised by Amnesty's report are that there are "no clear processes for reviewing the matrix, or for correcting or deleting outdated information".
There is no formal process to notify people that they are in the matrix, the group said, and no system they can challenge their inclusion or seek to have their name removed from it.
"Although the police may be pursuing a legitimate aim when they collect data on gang members, the Gangs Matrix is an excessive interference with the right to privacy that affects the rights of black boys and young men disproportionately," the group said.
"The weak data governance and lack of safeguards that characterise the database show that it was designed and put to use without sufficient regard for the rights of those listed on it."
The UK's data protection watchdog has responded by launching an investigation into the police's use of the Gangs Violence Matrix.
"We are in contact with the Metropolitan Police Service as part of an investigation into its use of a 'gang database'," said James Dipple-Johnstone, deputy commissioner at the Information Commissioner's Office.
"We're considering how the database is used and if any aspects of it constitute a breach of the Data Protection Act."
The Met said that it was working with Amnesty and the ICO "to help understand the approach taken", adding that each borough was "expected to have Information Sharing Agreements (ISA) in place with any organisation with whom matrix information is shared". ®
Similar topics