This article is more than 1 year old
And lo, Qualcomm hath declared that a new chip for wearables is coming
Too little, too late?
Qualcomm is shipping samples of its third-generation wearable chip – the first to be built from the "ground up," it claims.
Today's Android smartwatches mostly use the aging Snapdragon Wear 2100 announced over two years ago, built out of good ol' 28nm transistor gates.
The power-hungry Qualcomm system-on-chip typically provides about day of use with Android Wear but not much more. It's where Apple, with its W2, and Samsung, with its Exynos 7, have been able to offer a competitive advantage: more power and a longer battery life for your space-age computer watch.
It's really a chicken-and-egg situation for Qualcomm – without the demand, there was little point devoting engineering and design resources to a new silicon platform.
Speaking to Qualcomm's senior director of wearables, Pankaj Kedia, Wareable blog confirmed Qualy's third-generation wearable gadget processor would be ready in the autumn and come in different variants – some with GPS, some without.
Fitness and activity trackers usually require a GPS chip, but other uses don't. Of the original computer and telecomms companies that dived into the shallow Android Wear pool in 2014 and 2015, only LG and Huawei were still seemingly splashing about in it last year. Google focused instead on selling the aging technology via established watch and fashion brands: Guess, Hugo BOSS, Tommy Hilfiger, Louis Vuitton, and Armani all sell branded Google Wear OS wrist-bling. It must be like being locked into an airport shopping mall when everyone's gone home for the night.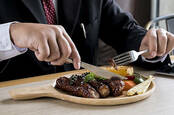 Yay, you've won your Fitbit lawsuit, folks. But, lawyers, about those filet mignon expenses...
READ MORE
One market segment where wearables have succeeded in attracting a mass market is in health and tracking, and this simply doesn't need a full-blown Qualcomm SoC. Fitbit and Garmin seem to have proved this.
Kedia hinted the first "real" Qualcomm wearable SoC should be smaller and have better battery life. But then Kedia also suggested consumers didn't want any corners cut – the fashion-brand Wear gear typically lacks the NFC chips required for mobile payments – so this is a holding statement promising all things to all people.
As we noted earlier this spring, wearables are really now just a two-horse race: Fitbit are in it because they do tracking so well, and Apple, because the Watch is such a slick companion to the iPhone.
The one undisputed loser in the smartwatch story is the dream of a new apps platform. Apps are little used – unsurprisingly given the space on offer. And your phone is usually in your bag or pocket. So if you're making a fitness-first wearable, you can probably wing it using one of these, as Fitbit does. ®
Bootnote
Sanity may have broken out at Qualcomm after its flirtation with servers. The San Diego company makes £22bn a year selling chips that move and communicate with wireless networks – so its foray into chips that stay put and don't communicate with wireless networks was, um, interesting.