This article is more than 1 year old
Waymo robo-taxis to accept fares in Arizona in 2018
You talkin' to me?
Google IO Alphabet's self-driving car outfit Waymo has announced it will start an autonomous taxi service in Phoenix, Arizona, USA, later this year.
Waymo has been doing extensive testing in the city by loaning out cars to beta testers and letting them travel without anyone behind the wheel. Speaking at the Google I/O developer conference CEO John Krafcik told attendees that the service would go live this year.
"We're not just building a better car, we're building a better driver," he told developers.
Customers of the service will require the Waymo app to hail a robo-cab.
Waymo chose Phoenix due to a combination of local government rules and weather.
California initially led adoption of self-driving cars but Arizona became a popular testing location because it doesn't require vehicle manufacturers to keep a record of accidents. Which is handy for covering up cock ups - unless you kill someone. Arizona also has no requirement for a safety driver behind the wheel.
The other big advantage of Phoenix is the weather. Rain isn't that common and it almost never snows - the heaviest recorded snow "storm" was in 1939, where one inch fell on the city.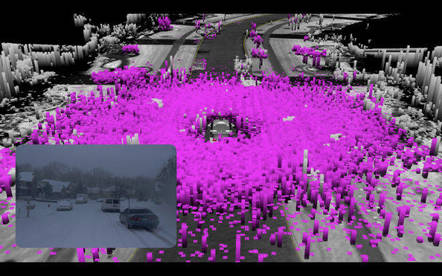 How an unfiltered autonomous car's sensors "see" snow
Snow causes big problems for autonomous vehicles, Krafcik said, since snowflakes can confuse sensors. That said, the millions of miles and advanced AI filtering of data means Waymno is now trialling its cars in snowy areas.
In the meantime, expect the Waymo service rollout to be limited to states like Arizona and Nevada, and if you're a cab driver in those states it might be time to look for less-disruption-susceptible employment. Your correspondent is an IT journalist, so has no advice whatsoever to offer on that front. ®