Uber and NASA pen flying taxi probe pact
What happens when cabs go aerial next to an airport? They'll figure it out together
NASA and Uber have signed an agreement to ensure safe development of flying taxis in urban environments.
At Uber's second annual Elevate conference in Los Angeles on Tuesday, the company also revealed it plans to take Uber Air to the skies by 2028.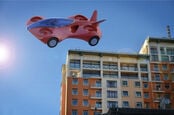 NASA tells The Reg: For crying out loud. We're not building flying taxi software for Uber
READ MORE
In the meantime, it's called on NASA to help build realistic simulations of flying taxis during busy air traffic. The goal is to create computer models of aircraft flying through Dallas Fort Worth International Airport in Texas, one of the world's busiest airports. Uber will collaborate by sharing its plans and supplying the space agency with data so that it can assess how best to navigate an aerial taxi service system alongside very contested airspace.
The two companies have signed a "Space Act Agreement", an instrument that allows NASA to work with third parties that help it advance its mission.
"NASA is excited to be partnering with Uber and others in the community to identify the key challenges facing the UAM market, and explore necessary research, development and testing requirements to address those challenges," said Jaiwon Shin, associate administrator for NASA's Aeronautics Research Mission Directorate.
It's not the first pact between the companies. In November 2017, Uber signed its first partnership with a federal government agency to develop "Unmanned Traffic Management" and to operate Unmanned Aerial Systems (UAS) at low altitudes.
Uber's air taxi plan is a bit sketchy so far. According to a whitepaper (PDF), Uber's VTOL (vertical take-off and landing) aircraft will use electric propulsion so they have zero emissions, be quiet enough to operate in busy cities, and will be autonomous.
"These VTOL designs will also be markedly safer than today's helicopters because VTOLs will not need to be dependent on any single part to stay airborne and will ultimately use autonomy technology to significantly reduce operator error."
Erm, good luck with that. Uber hasn't yet nailed safe autonomous taxis on the ground. One of its self-driving test cars was involved in a fatal car crash after it failed to recognize a woman pushing her bike across the road in March earlier this year. ®