Array with you: Hitachi's Vantara begins rip-and-replace rampage
Offers 15TB SSDs and AI-driven operations tools to weary admins
---
Hitachi Vantara has updated its VSP all-flash and hybrid storage arrays and their SVOS operating system, and provided AI-based operations tools to make operating them easier.
The arrays are divided into all-flash F-series and hybrid flash/disk G-series. The previous F-series used either SSDs, maxing out at 3.84GB or proprietary flash module drives (FMDs) which topped out at 14TB. The new F-series use the same FMDs but SSD capacity now reaches 15TB, which has had far-reaching effects in both the F-series all-flash arrays and G-Series hybrids.
In general, Hitachi Vantara said, they have up to 70 per cent more IOPS per core for increased price/performance; the Skylake effect we imagine. They also have greater consolidation, with 8x more volumes and one million snapshots per system, and improved data efficiency: up to 3.4x faster deduplication and 5x faster SVOS-based compression.
F-series all-flash arrays
The line of four previous F-series models - F400, F600, F800 and F1500 - becomes five: four new F-series products - the F350, F370, F700 and F900 - and the F1500, which stays.
A look at the IOPS performance and GB/sec bandwidth numbers can be used to position the old and new models:
| Model | IOPS | GB/sec | Status |
| --- | --- | --- | --- |
| New F350 | 600,000 | 12 | Replaces F400 |
| Old F400 | 600,000 | 11 | Goes away |
| New F370 | 1,200,000 | 12 | Replaces F600 |
| Old F600 | 800,000 | 12 | Goes away |
| New F700 | 1,400,000 | 24 | Replaces F800 |
| Old F800 | 1,400,000 | 24 | Goes away |
| New F900 | 2,400,000 | 41 | New |
| Old F1500 | 4,800,000 | 48 | Remains |
Hitachi Vantara F and G-series 700-900 array
The F-series capacity levels have changed markedly, with the old model quartet having maximum internal capacities much smaller than the new quintet, due to the emergence of 15TB SSDs and the non-upgrading of the 14PB FMDs:
Old quartet

F400 - 2.7PB (FMD) - 1.5PB(SSD)
F600 - 4.95PB (FMD) - 2.12PB(SSD)
F800 - 8.1PB (FMD) - 4.4PB(SSD)
F1500 - 8.1PB (FMD) - 1.5PB(SSD)

New quintet

F350 - 2.9PB (15TB SSD)
F370 - 4.4PB (15TB SSD)
F700 - 6.1TB (14TB FMD) - 13.1PB (15TB SSD)
F900 - 8.1TB (14TB FMD) - 17.4PB (15TB SSD)
F1500 - 8.1PB (14TB FMD) - 134.8PB(15TB SSD)
The F-series and G-series support Fibre Channel and SCSI connections with the F and G1500s supporting FICON and FCoE as well.
Unlike HPE Nimble and NetApp with its AF800, Hitachi Vantara has not said anything in public about the adoption of NVMe-over-fabrics and storage-class memory (SCM). If this represents a real roadmap absence then these F-series arrays will face being at a considerable disadvantage concerning access latency.
VSP G-series hybrid arrays
There have also been large capacity changes with the hybrid G-series products where five old models (G200, G400, G600, G800 and G1500) are mostly replaced by five new ones (new G350, G370, G700, G900 and remaining G1500):
| Product | IOPS | Bandwidth (GB/sec) | Status |
| --- | --- | --- | --- |
| Old G200 | 270,000 | 7 | Goes away |
| New G350 | 600,000 | 12 | Replaces G400 |
| Old G400 | 600,000 | 11 | Goes away |
| New G370 | 1,200,000 | 12 | Replaces G600 |
| Old G600 | 800,000 | 12 | Goes away |
| New G700 | 1,400,000 | 24 | Replaces G800 |
| Old G800 | 1,400,000 | 24 | Goes away |
| New G900 | 2,400,000 | 41 | New system |
| Old G1500 | 4,800,000 | 48 | Remains |
With the largest disk drive in the G-series being 10TB and the same 15TB SSDs being available, then maximum capacity is now driven by SSD use instead of disk drive use. The new G900, for example, can have 14.1 PB of capacity using 10TB disk drives or 17.4 PB using 15TB SSDs:
Old G-series quintet max capacities

G200 - 1.5PB
G400 - 2.8PB
G600 - 4.3PB
G800 - 8.0 PB
G1500 - 8.0PB

New fatter fivesome's maximum capacities

G350 - 2.9PB (15TB SSD)
G370 - 4.4PB (15TB SSD)
G700 - 3.1TB (15TB SSD)
G900 - 17.4PB (15TB SSD)
F1500 - 34.8PB (15TB SSD)
Capacities of the new G-series using small or large format disks and the 14TB FMDs are lower than the maximum numbers above.

Vantara VSP F and G-series 350 and 370 array
Hitachi Vantara said its VSP arrays are available with a 100 per cent data availability guarantee (PDF). Infinidat said its arrays have seven nines (99.99999 per cent uptime).
SVOS
SVOS RF, the VSP array's operating system, has cloud and container integration which supports new workloads.
Developers can run more workloads in a single system through Docker. OPenStack and Redhat Openshift container integration with Swarm and Kubernetes orchestration.
Hitachi Vantara said SVOS has up to 240 per cent faster data reduction and inline operations. It has up to 8x more volumes and 1 million snapshots, up to 25 per cent lower latency and 70 per cent more IO per core, with no detailed numbers being provided.
AI-driven operations tools
Hitachi Infrastructure Analytics Advisor (HIAA) is a so-called AI-powered "brain" to provide data centre insights by looking across the data path, including at virtual machines, servers, networks and storage. It uses machine learning to more efficiently optimize, troubleshoot and predict data center needs.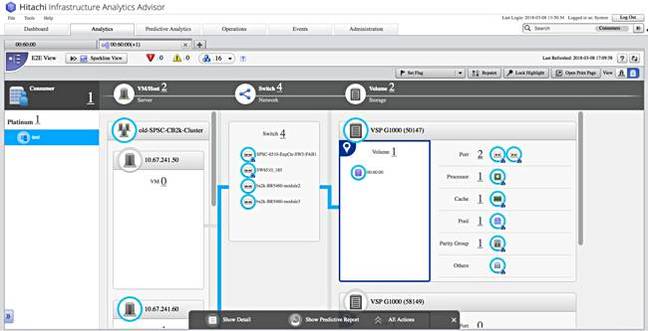 Vantara HIAA screen shot. Click to enlarge
We're told that new HIAA capabilities include:
Predictive analytics: AI mines telemetry data to predict when new storage purchases will be required, improving budget planning and helping to prevent performance dips. Machine learning analyzes all resources associated with storage to help ensure the right resource is purchased.
Claimed 4x faster root-cause analysis: A patented AI engine analyzes telemetry data and configuration changes across the data path to isolate issues and uses a heuristic engine to recommend resolution.
Integration with Hitachi Automation Director allows immediate fixes based on best practices.
Hitachi Automation Director (HAD) is a customisable "engine" for automating service delivery routines including virtual machine, network zoning and storage and data protection tasks to reduce errors.
It has been updated to:
Integrate with IT service management (ITSM) tools, including the ServiceNow platform, for improved tracking and control of IT resource delivery,
Improve REST API integration for provisioning of third-party resources, including storage,
Take commands from HIAA for issue remediation and storage configuration data,
Automate the setup of Hitachi Data Instance Director (HDID) data protection to safeguard against data loss or downtime.
Lee Caswell, VMware VP for the Product, Storage and Availability Business Unit, said: "Our joint integration work helps Hitachi VSP customers seamlessly leverage many VMware solutions including VMware vSphere, Virtual Volumes and Site Recovery Manager to simplify daily operations and disaster recovery scenarios. And by sharing telemetry data between Hitachi AI operations software and vCenter-native management tools, we help customers," operate their systems better.
Hitachi Vantara's VSP is one of four classic big iron arrays - the others being Dell EMC's PowerMax, IBM's DS8000 and Infinidat's Infinibox. HPE has its XP which is an OEM"d version of Hitachi's VSP. So far HPE has not said anything about taking this new VSP family of products on board.
The lack of NVMe-oF and SCM from a public technology roadmap, especially given its adoption by Dell EMC, IBM, Kaminario, NetApp and Pure plus startups like Apeiron (with similar speed tech)E8, Excelero and Pavilion, could put Hitachi Vantara at a disadvantage in access latency-sensitive workloads.
We would imagine both NVMe-oF and SCM are on the company's private technology roadmap.
The overtaking by 15TB SSDs of the company's 14TB capacity FMDs implies that FMD upgrade may have been abandoned or slowed. We've asked Hitachi Vantara about this and whether it may adopt ruler-format SSDs.
The AI-driven and automated operations tools could provide an advantage operations-wise versus the VSP's competitors, but that will need to be proved in real operational life.
These offerings are now available both independently and packaged together with Hitachi Vantara VSP. No pricing and detailed availability information has been provided for the new arrays. ®