Google has made some minor tweaks to the wearable OS it insists is doing just great.
More than 50 watches running Wear OS (formerly Android Wear) are on the market, Google said, although many are from fashion brands using two-year-old technology.
Last year Google's big change to the flop OS was making it more of a standalone platform – so it could work much better with an iPhone. Google also changed its development schedule to bring more frequent minor updates after criticism of long delays between major releases.
Google's other key focus areas for the Wear OS are optimising the Google Assistant on the wrist, improving the user experience for iPhone owners, and optimising the power consumption. More frequent software updates were also promised #googleio2018 #wearables pic.twitter.com/FHIgRiJFPT

— George Jijiashvili (@George_CCS) May 9, 2018
Google continues to tweak power settings with an "enhanced battery saver mode" in which the radios and clock face are off. It's very much needed – the Wear OS's power consumption is considerably worse than it was when I reviewed it a year ago.
But Google's difficulties in optimising power consumption on smartwatches without upsetting someone by reducing functionality are amply illustrated in the blog post that carries the latest news.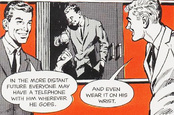 El Reg straps on the Huawei Watch 2
READ MORE
"A number of health and fitness developers have said their apps require background monitoring of the user's motion and other vitals throughout the day. The developers said their apps cannot perform background monitoring if background services are unable to set alarms and jobs," noted Hoi Lam, lead developer advocate for Wear OS at Google.
In other words, to conserve battery life, the watch becomes useless as an accurate activity or health tracker. That new silicon from Qualcomm can't come soon enough. Qualcomm said it's now shipping samples to manufacturers ahead of a formal launch.
On the positive side, Google's already superior Assistant gets some attention, with richer Cards allowing the user to interact with content, and support for Google Actions. It's still rare to see anyone in real life talking to an AI gadget of any kind on the street, as opposed to a car or at home, but a more useful assistant may remedy that. Apple and Samsung may have superior platforms but Siri and Bixby are far behind Google here.
The Developer Preview is now available for download to a Huawei Watch 2 – consumers are not encouraged to kick the tyres.
That said, some users hoping for big improvements have expressed disappointment on Reddit.
"The issue I have is I get terrible battery life, which makes sense, the SoC was designed for a phone, not a watch. But I also don't get the performance of a phone SoC. So I get all the drawbacks and none of the positives. It kills me, enough so that I'm probably jumping ship from AW/WearOS for my next watch," said boothroyd917.
He added: "The new Qualcomm chip is the only reason I'd even consider staying with WearOS."
Well, quite. ®
Similar topics