This article is more than 1 year old
Africa's internet body in full-blown meltdown: 'None of the above' wins board protest vote
Afrinic in limbo in aftermath of sex harassment claims
A protest vote against corporate mismanagement at Africa's main internet body has sent the organization into freefall.
Following the poor handling of a sexual harassment scandal that eventually led to the resignation of its chair and vice-chair, members of Afrinic asked for a vote of no-confidence in the organization's entire board at its meeting this week in Dakar, Senegal.
But when the board refused to grant such a vote – having initially said it would – members took their revenge on Thursday by voting for "none of the above" in the elections of three board seats.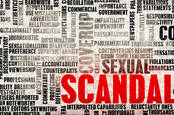 Africa's internet body hit with sexual harassment cover-up claims
READ MORE
In each case the protest vote won, and that has now left the organization with insufficient board members to reach a legal quorum. As a result it is unable to carry out its most important tasks, which include, critically, calling elections in order to fill the vacant seats. It has left Afrinic in legal purgatory with no clear resolution.
Even supporters believe the organization had brought much of its problems on itself: it had been repeatedly warned by members that unless it addressed their concerns – which range far wider that the sexual harassment mishandling – they would seek to undercut the organization itself.
But the very culture and lack of accountability that members were protesting against may have led the board to believe it could continue to ignore their complaints.
"The results of the Board election are as follows," begins the organization's official announcement before revealing that the three board seats were won by "None of the above" by: 97 votes to 80; 78 votes to 43 and 56; and 97 votes to 79. In each case, the result is listed as: "The seat is vacant."
Sorry, can't hear you
Amazingly, despite what appears to the outside world as a clear sign that Afrinic needs a major overhaul, calls for reform continue to be ignored by those currently in positions of power.
"The Board intends to hold a 30-day call for expressions of interest from people who wish to be considered for appointment," reads a message from the current chair Christian Bope.
Bope took over the role after his predecessor, Sunday Folayan, was forced to step down after text messages he had sent to his vice-chair and Afrinic's CEO were leaked online and showed him repeatedly propositioning female staff, trying to get others fired, and referring in derogatory terms to "francos" – French-speaking members of the community.
It appears as though the reduced Afrinic board believes it can vote in new board members - casual vacancies – by itself. Ignoring the fact that this is likely to infuriate members all the more, there is a legal question over whether those board-selected board members can act as part of a quorum.
In other words, while the current Afrinic board can fill the seats with people it chooses, they may not have the legal power to make corporate decisions – including the calling of new elections; so nothing is resolved.
There are other signs that those in power are fiercely resisting reform.
Again, the sexual harassment complaint plays a central role. The board was pressured into asking an independent committee to investigate the allegations and write a report. That report was finished and handed to the Board over a week ago but it continues to refuse to release it, claiming confidentiality concerns.
Instead, the board said simply that it was "satisfied that there was no evidence of harassment, bullying or intimidation by Board members." But few members believe that conclusion having read the leaked complaint and are asking to see the actual report.
Blame the victim
And now we understand – in a move all too familiar to those who have been following the recent #MeToo movement – that board members have been attempting to undermine the credibility of the complainant, Afrinic's head of external relations, Vymala Poligadu, rather than address the serious issues she exposed in her complaint.
Another significant issue that critics want to see reformed is Afrinic's corporate structure. It has two highly unusual elements:
Board members are the sole stakeholders of the organization, meaning that they wield complete control
A "council of elders" made up of former board chairs has a formal advisory role in the organization, but is unaccountable to the broader community.
The first element has, ironically, prevented the most obvious solution to the current crisis from being undertaken: dissolution of the current Afrinic structure and the creation of a new one.
And that's because if it was dissolved, all of the organization's assets would be distributed equally between its current Board members. Those assets include several IPv4 address blocks worth millions of dollars on the open market (the address blocks have been a long-running cause of tension and led to accusations of corruption).
The fact that the board wields complete control has created a culture of indifference to member concerns, critics charge, which has in turn led to an increasingly insular and political environment that lacks sufficient accountability to the broader internet community.
Elder abuse
The second aspect – the council of elders – is a concept that resonates with some Africans but critics say actually contributes to the organization's problems. The idea is that Afrinic's board has a source of wisdom to tap but in reality it means that former chairs continue to have undue influence on the organization, and larger problems continue to be ignored thanks to what Western academics and corporations have long identified as "groupthink."
That disparity between theory and reality was on stark display on Friday at the closing of the African Internet Summit when former Afrinic chair and key member of the council of elders, Nii Quaynor, was given the meeting's closing address.
In his speech, Quaynor gave a seemingly wise and unifying message, noting that organizations such as Afrinic are "public interest groups – not property to keep but property to share."
He complained that Afrinic had become "too political for my liking" and some unnamed individuals were "too crazy for power." He talked of service to community and urged "active participation" as necessary for success.
Obliquely referencing Afrinic's legal purgatory, he said: "We ask our partners to be patient with us as we go through these challenging times… be courageous to call out what is wrong, taking into consideration our cultural context… we all succeed together or we fail together."
And he ended with a rallying cry that "the African community is much more determined and united that it appears on the surface." The address was met with strong applause, seemingly solidifying the value of having an ex-chair of the organization retained as a formal advisor.
The harder reality however is that Quaynor is among the most political actors within the organization and uses his advisory role to continue to exert considerable influence on Afrinic while avoiding any accountability.
Zipped
Several insiders we have spoken to since the organization went into meltdown this week were extremely hesitant of criticizing Quaynor or the other council of elders - in large part because they have no way of knowing what they will say to board members, and their position is unassailable since they are not elected and the Council of Elders is written into Afrinic's bylaws.
Quaynor stood down as Afrinic chair back in 2004 but thanks the structure of the Council of Elders, he can expect to serve on it for a minimum of three more years, and for anywhere up to another 12 years (he will only leave when three more Afrinic chairs step down from their position). The other elders can expect to be on the council for decades.
Meanwhile, the tensions within the African internet community that have contributed to Afrinic's dysfunction continue to play out.
Rather that look at its own issues and structure, some members claim that the current problems are the result of other regional internet registries (RIRs) scheming to undermine the organization so they can take over – a concept so incredibly unlikely it can be filed under "conspiracy theory."
Then there is the tension between French-speaking and non-French speaking members that were painfully exposed in the text messages sent by former chair Sunday Folayan and which likely led to the large protest vote against adding new board members.
Tension
On top of that, there is a simmering tension between white and black Africans that was exposed two years ago when a former CEO claimed that the inclusion of a white South African on the board election ballot was evidence that there was a "clear racial fight for the white to take over."
That tension again exploded this week when one (white) Afrinic member complained about another (black) member calling someone "Satan" for sending a link to an article outlining the mess Afrinic was in (it was in fact, our earlier story).
In response, he was told "you need to be real African to got [sic] the meaning." That elicited the angry response: "Are you now implying that I am some how less African than you? Despite being raised in Africa, lived in Africa all my life and under African skies will I die?"
In short, even when faced with implosion, members of the African internet community continue to blame others rather than look at their own behavior.
It is unclear how exactly Afrinic will survive this latest saga. Ironically, some are arguing that the organization needs to be propped up, despite its fundamental flaws, because no one knows what an alternative would look like. ®