This article is more than 1 year old
If you like Nutanix and you think it's XC... Bit barn boxes or ROBO
Dell teases high and low-end hyperconverged kit at .NEXT
Nutanix .NEXT attendees were this week furnished with details about a heavy duty server and skinny ROBO box – two new Nutanix-based hyperconverged systems from Dell.
Dell's XC series consists of hyperconverged systems powered by Dell servers using OEM'd Nutanix software.
Dan McConnell, Dell veep in the converged platforms and solutions division, wrote about Dell's new XC systems here.
The XC940-24 is based on a PowerEdge 940 server, which is a 3U, 4-socket system with up to 6TB of memory and 10 or 25GbitE connectivity. It can have a range of Xeon SP Platinum and Gold processors.
There are 24 x 2.5-inch drive bays which can be loaded with SAS disks or SAS/SATA/NVMe SSDs. Maximum SSD capacity is 60TB with all-flash systems while maximum disk capacity is 22 x 2.4TB.
Think of it as a 4-socket powerhouse for large scale-up analytics and other memory-intensive applications. Cop a datasheet here.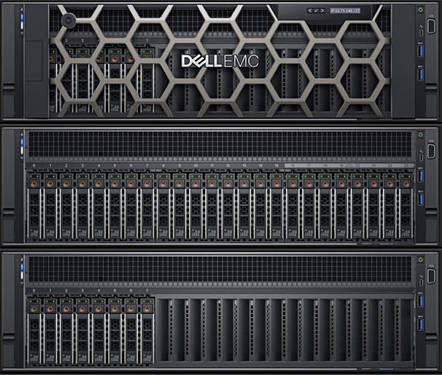 Dell R940 server
The XC640-4i is for remote office/branch office, retail sites and IoT edge deployments. It can be deployed in 1, 2 and 3-node setups.
The base server is a 640 PowerEdge, a 1U, dual-socket server for dense scale-out data centre computing and storage. The supported processors are Xeon Gold and Silver CPUs, with up to 384GB of DRAM.
It supports 4 x 3.5-inch SAS interface drives which can be SSDs or HDDs; up to two SSDS in hybrid systems. The maximum disk capacity is 8TB, with SSDS ranging from 400GB to 3.8TB.
A Life Cycle Management (LCM) facility for the XC systems can automatically update the BIOS and firmware for several components, and do it up to 70 per cent faster than a living, breathing admin.
Dell made the 14G-using VxRAIL hyperconverged systems available in December last year, as well as 14G-based XC640, XC740xd and XC740 systems. ®