This article is more than 1 year old
Symantec shares slump after revealing internal investigation
It's not a security problem, but full-year results will likely be late
Symantec's shares have slumped after the company revealed it "has commenced an internal investigation in connection with concerns raised by a former employee."
The company's veep for investor relations Cynthia Hiponia told a Thursday May 10th earnings call "The investigation does not relate to any security concern or breach with respect to our products or systems" but wouldn't elaborate on the nature of the probe. Hiponia added "The company's financial results and guidance may be subject to change based on the outcome of the Audit Committee investigation."
Those results and guidance will probably arrive late – the company has said "It is unlikely that the investigation will be completed in time for the Company to file its annual report on Form 10-K for the fiscal year ended March 30, 2018 in a timely manner."
That suggests the company is poring over its books to ensure all is shipshape.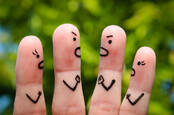 Symantec ends cheap Norton offer to NRA members
READ MORE
The numbers revealed today for the company's fourth quarter were decent. Revenue reached US$1.222 billion, up ten per cent year-over-year.
CEO Greg Clark was pleased that the company's annual enterprise sales crept up one per cent and happier still that consumer sales grew by six points, both ahead of expectations. Overall four per cent growth for the year was also pleasing, as was customers' happy adoption of subscription-based services.
CFO and executive veep Nicholas R. Noviello hinted at more acquisitions, saying they're a valid growth strategy in the enterprise.
But those plans won't attract much interest while the investigation continues. Its already knocked Symantec's share price, which slumped more than ten per cent after the bell.
Investors hate uncertainty and that's what Symantec has just delivered. And a big, steaming pile of uncertainty at that, with stench of financial naughtiness about it for good measure.
We've laid in the popcorn to watch this one play out. ®