This article is more than 1 year old
Cheap-ish. Not Intel. Nice graphics. Pick, er, 3: AMD touts Ryzen Pro processors for business
Quickly follows 2018's Pro Mobile parts
AMD spent a pretty penny marketing its desktop-grade Ryzen Pro chips, to launch this week, but we'll summarize the new line for you in just a dozen words: they are cheaper than rival Intel parts, and have nice enough graphics.
These are the sort of processors destined for office PCs. Desktop systems first out of gate with these latest chips include: the HP Elitedesk G4 and 285 Desktop, the Lenovo ThinkCentre M7x5, Acer's Veriton M200, and the Dell Optiplex 5055.
Under the hood, the desktop-grade Ryzen Pro family features the usual Zen-based first-generation Ryzen architecture, on 14nm, with Radeon graphics, all on one die. The aim is to be cheaper than Intel's offerings – ranging from $169 to $349 – while aiming to be comparable in performance, and include decent-enough integrated GPU hardware. In turn, it means the final systems should be cheaper for IT buyers.
Of course, if you want a proper workstation-grade AMD chip, you should check out AMD's Threadripper series.
Basic specifications
The desktop-friendly Ryzen 5 Pro 2400G has four cores, and eight hardware threads, clocked at 3.6 to 3.9GHz, and a built-in Radeon RX Vega 11 GPU. The 2400GE has four cores, and eight hardware threads, clocked at 3.2 to 3.8GHz, and a built-in Radeon RX Vega 11 GPU.
The Ryzen 3 Pro 2200G has four cores, and four hardware threads, clocked at 3.5 to 3.7GHz, and a built-in Radeon RX Vega 8 GPU. The 2200GE has four cores, and four hardware threads, clocked at 3.2 to 3.6GHz, and a built-in Radeon RX Vega 8 GPU.
AMD reckons the Pro 2400G bests its competitor the Intel Core i5-8400, and the 2200G beats the Core i3-8100. Each desktop Ryzen Pro processor supports 16 to 24 lanes of PCIe 3.0, has 2MB of L2 and 4MB of L3 cache, and two channels of RAM totaling up to 64GB.
The desktop-grade Ryzen Pro chips follow on from the mobile (think: laptop-friendly) Ryzen Pro chips launched at the start of the year. These include the Ryzen 7 Pro 2700U with four cores clocked between 2.2GHz and 3.8GHz, with Vega 10 graphics, which AMD says rivals Intel's Core i7-8650U and 8850U. Below is a summary of the Ryzen Pro line up as it stands today: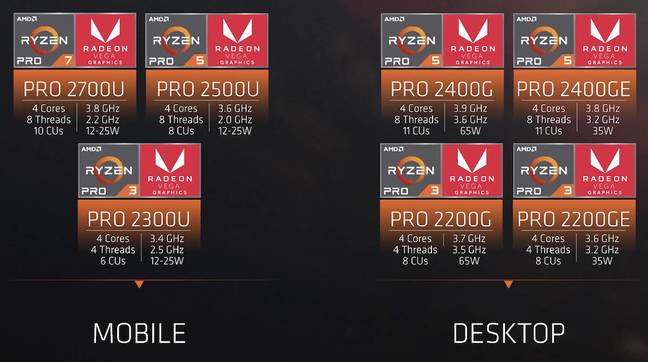 Click to enlarge
If you're getting deja vu then you're forgiven: in terms of specifications, the desktop Ryzen 5 Pro chips are the desktop Ryzen 5 parts released in February and April, and the desktop Ryzen 3 Pro chips are the desktop Ryzen 3 components made available the same months.
You could accuse AMD of slapping "Pro" on its already available Ryzen 3 and 5 processors, and flogging them to businesses via HP Inc, Dell, Lenovo, and so on. And we almost did. However, there are some differences.
The Pro series – mobile and desktop – includes a few features useful to enterprises. The chips have AMD's GuardMI, which does transparent memory encryption just like the AMD Epyc, provides a secure boot mechanism using a security coprocessor, and supports TPM 2.0 and a firmware Trusted Platform Module (fTPM) to run critical stuff in secured parts of the system. This stuff could include real-time intrusion detection, application whitelisting, and so on. It also has a hardware-accelerated AES-128 encryption engine.
AMD also tries to guarantee that its Pro devices leave the factory untampered – for example, with the correct and non-malicious firmware installed. The series also supports Microsoft's Windows 10 Enterprise Security.
Crucially, the Pro series makes a string of promises to big biz, such as two years of availability of the chips, that the best quality dies are used, 36-month warranties to system makers, and DASH support.
These features are enabled on the die, or supported in firmware alongside the processor, like Intel's vPro technology, and aren't present in the regular Ryzen series, we're told.
As mentioned above, these Ryzen Pro processors are first-generation 14nm FinFET Ryzen parts.
If you want one of the second-generation Zen+ 12nm FinFET Ryzen CPUs, which were launched last month, you can buy one yourself and plug it into a system. It will need its own graphics processor. This second-gen Ryzen family includes the Ryzen 7 2700X with eight cores clocked from 3.7GHz to 4.3GHz.
Second-generation Ryzen Pro chips are due to land in the second half of 2018. ®