This article is more than 1 year old
Wah, encryption makes policing hard, cries UK's National Crime Agency
Ever since Snowden it's been the default – report
Encryption is making it more difficult for law enforcement agencies to detect dangerous offenders, according the the National Crime Agency's (NCA) yearly assessment of serious organised crime in Britain.
"Since 2010, communication service providers have migrated to encrypted services 'by default', a process that accelerated following the Snowden disclosures," said the National Strategic Assessment of Serious and Organised Crime 2018.
"Now, the majority of internet traffic is encrypted and publicly available mobile device apps offer end-to-end encryption as standard."
Although the report acknowledged this meant enhanced privacy for users, the NCA warned the use of encryption "is impacting on law enforcement's ability to collect intelligence and evidence".
NCA director general Lynne Owens said: "This year's assessment shows that organised crime groups are exploiting digital technology, for instance using encryption to communicate, and dark web marketplaces to aid their activities."
The report warned encryption built into mainstream products would continue to expand and will offer criminals enhanced protection by default, rather than design. "The pace of these developments will continue to challenge law enforcement capability and resource, with narrowing options for mitigation," it said.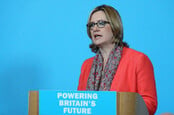 Rudd-y hell, dark web! Amber alert! UK Home Sec is on the war path for stealthy cyber-crims
READ MORE
However, the report did not cover whether the government should break encrypted services, as has been previously suggested, which could potentially lead to anyone exploiting back doors, including criminals.
On the subject of the dark web, the combination of encryption and anonymisation pose "substantial challenges to law enforcement's collection of intelligence and evidence", the NCA document stated.
In April, former Home Secretary Amber Rudd announced a £9m war chest to tackle crims using the darker recesses of the web for illegal activities, such as selling firearms, drugs, malware and people.
Rudd had previously spoken out about encryption, often prompting criticism due to her apparent lack of understanding.
Technologies such as virtual private networks and virtual currencies will support fast, "secure" and anonymous operating environments, facilitating all levels of criminality," the report said.
Unsurprisingly, a number of the security services were consulted prior to publication, including MI5 and GCHQ.
Elsewhere in the report, the NCA warned the UK remained a prime destination for money laundering. "Investment in UK property, particularly in London, continues to be an attractive mechanism to launder funds," it said. ®