This article is more than 1 year old
How could the Facebook data slurping scandal get worse? Glad you asked
Three million "intimate" user profiles offered to researchers
Yet another rogue Facebook app that gathered and sold "intimate" details on millions of users has come to light.
A report from New Scientist finds that the myPersonality app had collected and shared the personal information for as many as three million users who had installed the app on their Facebook profile. The data has been passed to hundreds of researchers.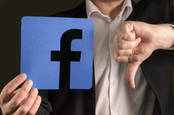 Look, we're doing stuff: Facebook suspends 200 super slurper apps
READ MORE
The report notes that the app, developed by Cambridge University researchers, had advertised its data sharing as being anonymous, but poor security meant the profiles could be de-anonymized.
The app had operated for four years when, in April of this year, Facebook suspended it, the social network confirmed.
"We suspended the myPersonality app almost a month ago because we believe that it may have violated Facebook's policies," Facebook VP of product partnerships Ime Archibong said in a statement provided to The Register.
"We are currently investigating the app, and if myPersonality refuses to cooperate or fails our audit, we will ban it."
The revelation comes as Facebook is trying to rehab its image in the wake of the Cambridge Analytica scandal. Having another outfit caught harvesting details from millions of users is hardly a good look for Zuck and Co.
Still, the Social Network is pulling out all the stops to sell the public on its efforts to tighten control over user information. On Monday, Archibong posted the preliminary findings of the app audit promised by Zuckerberg earlier this year.
So far, Facebook says it has already suspended 200 apps which were using "large amounts" of profile information for investigation.
"We have large teams of internal and external experts working hard to investigate these apps as quickly as possible," Archibong said.
"To date thousands of apps have been investigated and around 200 have been suspended — pending a thorough investigation into whether they did in fact misuse any data."
Although these efforts are widely considered a step in the right direction, it's unclear if the campaign will have any lasting effect. After all, we've seen this before. ®