Julian Assange said to have racked up $5m security bill for Ecuador
WikiLeaks vows to take action over libelous claims
The government of Ecuador spent nearly $5m to provide protected internet access to asylum-seeker Julian Assange and he responded by hacking their systems, an anonymously sourced report has claimed.
According to a report from The Guardian, internal documents show that the the Wikileaks boss required surveillance and security services that had to be paid out of a secret intelligence fund.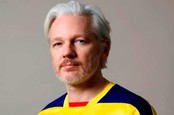 Are you able to read this headline? Then you're not Julian Assange. His broadband is unplugged
READ MORE
The report claims that the South American nation allocated around $66,000 per month to support "Operation Hotel", a covert project that covered both the security costs associated with Assange's asylum as well as the costs of monitoring the activist's various personal visits. The scheme was first named "Operation Guest" before changing to Hotel, which may reflect the length of Assange's stay at the embassy.
The operation is said to have been signed off by then-president Rafael Correa and later by Ecuadorian foreign minister Ricardo Patiño.
What's worse, the money may not have even been well spent. The documents also claim that Assange was able to compromise the network at the embassy to utilize a satellite internet service and intercept communications intended for other staff members.
Lies!
WikiLeaks issued a denial of the allegations shortly after the story was published.
No, @Guardian, @JulianAssange did not "hack into" embassy
satellites. That's an anonymous libel aligned with the current UK-US government onslaught against Mr. Assange's asylum--while he can't respond. You've gone too far this time. We're suing. https://t.co/DDnkSoczut pic.twitter.com/qWB0wkatN2

— WikiLeaks (@wikileaks) May 15, 2018
Assange has been staying at the Ecuadorian embassy in London since 2012, when he took refuge from an interview request from Swedish law enforcement. While the Swedes have since been dropped any investigation, he still faces immediate arrest in London on charges of jumping bail, and the US government has also expressed interest in pursuing charges against the leakmonger.
The report notes that much of the money was spent on meatware security measures: undercover operatives who took monthly cash payments in order to keep tabs on Assange. Other money was said to have gone to security service providers and other payments were made to Italy's Hacking Team, a security company whose correspondence WikiLeaks would later publish.
While Assange remains under the protection of Ecuador, reports have surfaced in recent months suggesting he was wearing out his welcome at the embassy.
For the time being, however, he remains a guest (albeit an [allegedly] expensive one) of the government. ®