Hundreds of academics across the world have signed an open letter urging Google to stop working with the US Department of Defense in analysing drone footage using its AI technology for Project Maven.
The open letter, which has nearly reached 300 signatures at the time of writing, was started by the International Committee for Robot Arms Control (ICRAC), a non-governmental organization co-founded by researchers worried about autonomous weapons. Members include experts in robotics, artificial intelligence, international relations, security, ethics, and law.
It's not the first time people have banded together to disapprove of Google collaborating with the military. Last month, thousands of its own employees turned against the company and wrote a letter to CEO Sundar Pichai to "cancel [the] project immediately". And asked Pichai to "draft, publicize, and enforce a clear policy stating that neither Google nor its contractors will ever build warfare technology."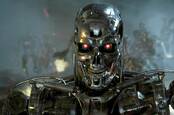 Googlers revolt over AI military tech contract, brainiacs boycott killer robots, and more
READ MORE
The open letter was written today to support Googlers revolting against the Chocolate Factory. It is directed at Larry Page, CEO of Alphabet, Sundar Pichai, Diane Greene, CEO of Google Cloud, and Fei-Fei Li, chief scientist of AI and machine learning and veep at Google Cloud.
"We wholeheartedly support their demand that Google terminate its contract with the DoD, and that Google and its parent company Alphabet commit not to develop military technologies and not to use the personal data that they collect for military purposes. The extent to which military funding has been a driver of research and development in computing historically should not determine the field's path going forward," it reads.
Google has repeatedly denied the malicious use of its technology in its government contract with the Pentagon. A spokesperson told us before that it is using "open source TensorFlow APIs that can assist in object recognition on unclassified data" in drone footage to aid the military.
The ICRAC, however, see this as just a step away from autonomous weapons. "While the reports on Project Maven currently emphasize the role of human analysts, these technologies are poised to become a basis for automated target recognition and autonomous weapon systems. As military commanders come to see the object recognition algorithms as reliable, it will be tempting to attenuate or even remove human review and oversight for these systems," according to the letter.
The experts aren't just concerned about weapons either. They're troubled by the potential for Google to share user data with the military for surveillance.
"The responsibilities of global companies like Google must be commensurate with the transnational makeup of their users. The DoD contracts under consideration by Google, and similar contracts already in place at Microsoft and Amazon, signal a dangerous alliance between the private tech industry, currently in possession of vast quantities of sensitive personal data collected from people across the globe, and one country's military.
"We are at a critical moment. The Cambridge Analytica scandal demonstrates growing public concern over allowing the tech industries to wield so much power. This has shone only one spotlight on the increasingly high stakes of information technology infrastructures, and the inadequacy of current national and international governance frameworks to safeguard public trust," the letter concluded.
Google has not budged, leading to some employees to reportedly resign. It is unclear how many have quit their jobs over this dispute so far.
The Register has reached out to the ICRAC and Google for comment. ®
Similar topics