This article is more than 1 year old
Xerox flip-flops on US$6.1 billion Fujifilm flip after investor flap
That sound you hear? Contracts being ripped up
As expected, Xerox under its activist-investor-controlled board has decided to exit its deal with Fujifilm.
Carl Icahn and Darwin Deason, who between them controlled 15 per cent of Xerox stock, objected almost immediately to a US$6.1bn deal they said left them as passive investors in a Fuji subsidiary.
The deal involved a series of transactions whereby the Fujifilm-Xerox joint venture would buy Fuji's stake in itself, before Fuji used the proceeds of that to swallow Xerox.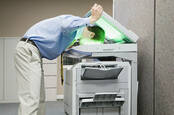 Xerox CEO resigns as company caves to activist investors
READ MORE
Ichan and Deason launched legal action to stop the deal in April 2018 and early this month the Xerox board ran up the white flag. Icahn Enterprises then put a broom through the boardroom.
Now, the new board has formalised what was expected: it's announced cancellation of the Fujifilm transaction.
Since you can't just rip up a contract you don't like without reason, the Xerox announcement cited "among other things, the failure by Fujifilm to deliver the audited financials of Fuji Xerox by April 15, 2018 and the material deviations reflected in the audited financials of Fuji Xerox, when delivered, from the unaudited financial statements of Fuji Xerox and its subsidiaries provided to Xerox prior to the date of the Subscription Agreement and taking into account other circumstances limiting the ability of the Company, Fujifilm and Fuji Xerox to consummate a transaction."
Those "material deviations" hint at Icahn's other beef: the 2017 accounting scandal which first led him to demand Xerox's CEO be sacked.
The new board had also "repeatedly requested" Fujifilm offer more favourable terms in the Xerox transaction, the statement said. ®