This article is more than 1 year old
Off with e's head: E-cig explosion causes first vaping death
See kids, your parents were right – smoking is bad for you
A forensics report has reported the first known death from the use of electronic cigarettes after a Florida man was killed when his device exploded and drove itself into his cranium.
Tallmadge D'Elia was vaping at home on May 5 when the vaping device, manufactured by Philippines-based Smok-E Mountain, exploded. An investigation by the Pinellas-Pasco medical examiner's office found the explosion fired two pieces of the vaping device into his head, causing death by "projectile wound of head."
D'Elia also suffered burns to 80 per cent of his body, the ABC News reports, after the explosion caused a fire in his house. Firefighters found his lifeless body when they broke in to tackle the blaze.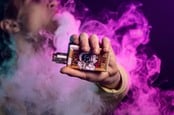 Amazon, LG Electronics turned my vape into an exploding bomb, says burned bloke in lawsuit
READ MORE
A representative from Smok-E Mountain said that the problem was most likely a battery issue, or a problem with the atomizer D'Elia had in his mouth. It said the company had had problems with people cloning their devices and using bad batteries.
While D'Elia's death is a first, injuries from electronic cigarettes are surprisingly common. A report last year by the US Federal Emergency Management Agency found that between January 2009 and December 31, 2016 there were 195 incidents where vape pens overheated or exploded, leading to 133 acute injuries to users, 38 or which were described as "severe."
"The combination of an electronic cigarette and a lithium-ion battery is a new and unique hazard," the report [PDF] found. "The shape and construction of electronic cigarettes can make them (more likely than other products with lithium-ion batteries) behave like 'flaming rockets' when a battery fails."
FEMA recommends getting rid of lithium-ion batteries in these devices, and to only use vapes that have the UL safety sticker. Or, you know, you could go back to good, old-fashioned cancer sticks and die the traditional way. ®