Lawyers for Marcus Hutchins: His 'I made malware' jail phone call isn't proper evidence
Scrap accused Brit's chat transcript, court urged
Malware reverse-engineer Marcus Hutchins has tried to throw out phone transcripts and legal documents used against him by US prosecutors, who have accused him of computer crimes and fraud.
Lawyers for Hutchins, a British citizen facing trial in America, has asked an east Wisconsin district court to dismiss the Brits' Waiver of Miranda Rights form, and the transcript of a phone call made just after waiving his rights, from the raft of evidence presented against him.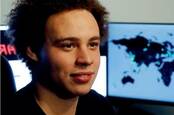 Crowdfunding scheme hopes to pay legal fees for Marcus Hutchins
READ MORE
The US government, meanwhile, wants both documents – the form signed from his first meeting with the FBI, and the other from a phone call Hutchins made after being arrested from jail in Nevada – presented during his trial as evidence.
According to the defense, both the Miranda Rights waiver and the call were taken during a time when Hutchins was still disoriented and intoxicated, and therefore should not be considered to be admissible as evidence.
Hutchins, best known for his work in disabling the worldwide WannaCry ransomware infection, has been held in the US since August 2, 2017, when he was collared at the Las Vegas airport on his way home from the DEF CON security convention. He was charged with multiple felony counts related to the 2014 development of the Kronos banking trojan. He denies any wrongdoing.
The phone call transcript, filed this week, in particular could potentially be damning evidence against Hutchins as, while talking with an unnamed associate from jail, he appears to admit to creating malware, at one point saying: "I used to write malware, they picked me up on some old shit," and later telling the person: "I wrote code for a guy a while back who then incorporated it into a banking malware."
Now, the defense is seeking to have that call record as well as the rights waiver declared inadmissible as evidence, claiming that Hutchins was in no state to give coherent answers due to having spent the week partying in Vegas.
"In conducting the custodial interrogation, the government coerced Mr. Hutchins, who was sleep-deprived and intoxicated, to talk," the defense team wrote in a motion filed in April.
"Moreover, because Mr. Hutchins is a citizen of the United Kingdom, where a defendant's post-arrest rights are very different than in the United States, he did not sufficiently understand any warnings he may have been given or rights being waived."
Prosecutors, meanwhile, have opposed the motions, arguing there is no reason to believe Hutchins wasn't aware of his rights or unable to think clearly about his situation. ®