This article is more than 1 year old
John McAfee 'goes underground' in motorcade to flee SEC
Babbles about subpoenas, corruption, corrupt pyramidal power structures and so much more
Security personality John McAfee has "gone underground" in a convoy of armored cars escorted by people claimed to be former members of the military, to escape what he says is persecution by America's financial watchdog – the Securities and Exchange Commission (SEC)
McAfee has released a series of videos explaining that he's disappeared because of a subpoena sent to him by the regulator in his capacity as an executive at bitcoin-mining concern MGT Capital Investments.
McAfee says the subpoena had nothing to do with MGT, that the company was de-listed as a result of the subpoena and that he was "smeared" by the SEC, which he claims has failed its duty to shareholders by issuing the subpoena in the first place. The fugitive said he's not at liberty to discuss the content of the subpoena and that merely discussing it is a felony.
MR MCAFEE COMMITS FELONY THIS MORNING ON VIDEO:

If you doubt Boss's commitment to freedom, watch as he violates the law by "impeding an ongoing SEC investigation by unlawfully disclosing information that could benefit the subjects of such investigation":https://t.co/hnp6qsVUd9

— John McAfee (@officialmcafee) May 15, 2018
"The SEC is out of hand and it does no longer represent American values or the American people," he says in one of the videos, in which he also says America has "a pyramidal power system that is corrupt at the core."
McAfee says he's the only one discussing this issue because the major CEOs dare not do so for fear of SEC action.
We could go on but you probably get the gist of this by now.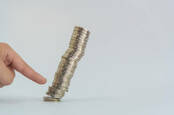 Warren Buffett says cryptocurrency attracts charlatans, AI won't change investing
READ MORE
McAfee has form being weird. In 2013 he released a bizarre video explaining how to uninstall the anti-virus software that bears his name. The previous year he disappeared in Belize, claiming he needed to disappear after his fight against corrupt officials placed him in danger. In 2016 he ran for US president.
The self-described "eccentric millionaire" now spends most of his time promoting cryptocurrencies.
McAfee's posting his videos on his Twitter feed, @officialmcafee. We offer that link in case you need more of a not-very-well-looking old man ranting about conspiracies than is to be found over at @realdonaldtrump. ®