China changes its mind on Bain's Toshiba chip takeover plans
US financier will be allowed to acquire memory biz after all
---
The government of China will not stand in the way of the Toshiba Memory Corporation's sale to US investment house Bain Capital.
Both Bain and Toshiba announced on Thursday that they were set to finalize the deal next month after antitrust officials in China had cleared the merger that had already been approved in the US and Europe.
"Today we received written approval for the acquisition of Toshiba Memory Corporation from the antitrust authorities in China," Bain said. "All antitrust approvals have now been received and we are looking forward to closing this investment."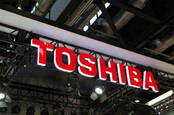 What a pain for poor old Bain: Toshiba $18bn flash chip biz sale stalls
READ MORE
Toshiba confirmed, adding that it expects to finalize the deal on June 1 at the latest.
"The parties today confirmed that all required antitrust approvals have been granted, and that all conditions for the closing of the transaction are now satisfied," Toshiba added.
Closing of the deal has been in limbo for weeks after Chinese authorities, mired in a trade dispute with the US, indicated they might not clear the company of antitrust concerns. Toshiba was reportedly concerned enough about the deal falling through that it had made a number of contingency plans in case everything fell through.
The $18bn acquisition will see Toshiba Memory Corporation (TMC) flogged off to an ownership group lead by private equity house Bain. The deal, which also involves a number of Japanese investors, was seen as a compromise for Toshiba to keep TMC out of the hands of a rival while still raising capital to cover the losses from its disastrous foray into nuclear energy.
As industry pundits have noted, Toshiba will get $18bn richer, but will also now be in the odd position of indirectly competing against its former subsidiary, as the newly-independent TMC runs a solid-state storage business that increasingly edges into the datacenter markets of traditional platter-based storage, where Toshiba still runs its hard drive operations. ®