This article is more than 1 year old
OnePlus smartmobe brand modelled on 'a religion', founder admits
Shenzhen cult gathers the faithful
As Chinese phone-maker OnePlus launched its latest phone, co-founder Carl Pei confessed that the company was inspired by cults.
Fanatics have smashed up their existing (non-OnePlus) phones to get one, and queued for hours in the scorching heat just to fondle one. The launch event is the product: OnePlus sells fans tickets to the launch, and did so yesterday.
"We wondered if there was a possibility of creating a brand that also feels more like a club or like a religion?" Pei told WiReD, discussing the company's most notorious publicity stunt. In 2014 OnePlus had invited fans to show that they had destroyed their existing phone in order to get the chance to obtain a OnePlus One for $1. Destruction didn't guarantee a replacement, however. Some did just that and were left with no phone at all.
"If you already subscribe to a religion and you want to change religions, there's a switching cost or an initiation ritual – and so that's where we got the idea for Smash The Past. So, if you're already subscribed to another brand, then to join us, you have to sacrifice that brand. I think for a company in its very first year, that was quite an okay campaign because it gained us a lot of attention and it really put our attitude on the map," Pei had said.
The co-founder expressed no regret over the stunt but did candidly describe how the early publicity had gone to the founders' heads.
"I think we were overly confident and arrogant," he told WiReD. But what the article didn't say is that OnePlus operates out of the Shenzhen offices of Chinese giant Oppo, part of the BKK group, which owns the Oppo and Vivo brands – Oppo is OnePlus's only institutional shareholder.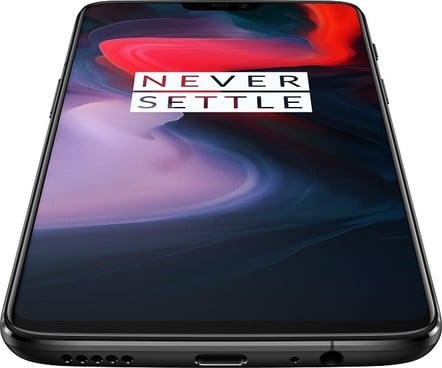 The OnePlus 6 is available from 22 May
OnePlus launched its OnePlus 6 device in London yesterday, and it's a tasteful reflection of what the industry's supply chains can deliver in 2018. Which means lots of display and a Notch, and a glass back and a dual-sensor main camera.
The OnePlus 6 touts a 6.28-inch AMOLED (19:9) display in a package not much bigger than the OnePlus 5, and incorporates a 16MP (f/1.7) main camera, supported by a 20MP secondary sensor. The company has added some gesture controls to its restrained and spare skin, "Oxygen OS". The screen-to-body ratio (84 per cent) matches that of the Galaxy S9. Hence a Notch. The about-par 3400mAh capacity battery will be put to work driving a FHD+ screen.
It comes in a striking red, black, and a limited edition white.
The OnePlus flagship now boasts IP67-rated water and dust resistance but lacks Qi wireless charging, and none of the models have expandable storage in the form of a microSD card slot. If you like, you can wait six months for a better OnePlus: the company supersedes its late spring launch with a late autumn "T" variant every year.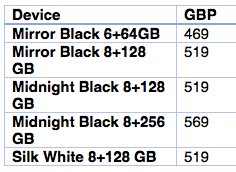 UK OnePlus 6 pricing (£)
It's available from 22 May, and OnePlus offers acolytes several nice deals; for trade-ins of a OnePlus 3 or 3T ("in good condition") users can receive up to £190 against the purchase of a 6. O2 is the sole UK carrier at launch.
The competitive landscape is changing fast with intense competition for value-conscious buyers.
When OnePlus launched its first "flagship killer" in 2014, it offered top-end specs for £249, some £300 cheaper than well-known brand rivals like Samsung. Four years on, OnePlus can still argue there's a significant saving over devices like the Galaxy S9 (£799) or the Pixel 2 XL (£899). But the threat is from newcomers like the reborn Nokia, offering stock Android at £399 in its Nokia 7 and the Huawei Group's excellent Honor 10, also at £399.
It's a nice deal at that price, but is the OnePlus brand strong enough to attract customers who can justify the extra £150? Or was it just a weird marketing experiment: a pseudo-startup experimenting with group psychology? Time will, er, tell.