NASA fix for Curiosity rovers's damaged drill: hitting it, repeatedly
Robot arm to add 'percussive' force so we can drill, baby, drill
---
NASA's top engineers think they've figured out a way to get the Curiosity rover's drill back to work holing the rock faces of Mars.
Back in 2016 the nuclear-powered rover's rock-sampling drill broke down after a motor failed. As 225 million km (140 million miles) is too far to make an on-site visit, the men and women of NASA have worked out a remote fix.
The new technique is called Feed Extended Drilling (FED) and uses the rover's robotic arm to direct the drill bit. Tests conducted in February 2018 proved the technique didn't work very well so the NASA boffins added a percussive element to hopefully drive the spinning drill bit into rock slabs on Saturday.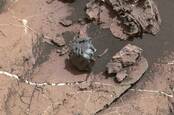 DRAMA ON MARS: Curiosity bot fires laser at alien metal object
READ MORE
"This is our next big test to restore drilling closer to the way it worked before," said Steven Lee, Curiosity deputy project manager at JPL. "Based on how it performs, we can fine-tune the process, trying things like increasing the amount of force we apply while drilling."
The next stage will be finding a way to get the drilling samples into Curiosity's internal laboratory without spilling anything. That'll be the work of the next month or so. NASA says the problem isn't insurmountable and the testing will be carried out on Mars using the actual rover, rather than on the California replica rover testbed.
"Every layer of Mount Sharp reveals a chapter in Mars' history," said Curiosity Project Scientist Ashwin Vasavada of JPL. "Without the drill, our first pass through this layer was like skimming the chapter. Now we get a chance to read it in detail."
To get the best possible science during the test the rover is now on its way along Vera Rubin Ridge to examine clay deposits it passed a few weeks ago but was unable to sample due to the damaged drill.
"We've purposely driven backwards because the team believes there's high value in drilling a distinct kind of rock that makes up a 200-foot-thick [about 60 meters] layer below the ridge," Vasavada said. "We're fortunately in a position to drive back a short way and still pick up a target on the top of this layer."
Lest you think that the rover must have been shoddily built to last this long remember that Curiosity has been trundling across the Martian surface for over five years and was originally built to last for just two years. NASA engineers are great at exceeding expectations. ®