Dell still hasn't decided what to do with itself, or VMware.
A new form 8-K filed with the United States Securities and Exchange Commission on May 17th says Dell "continues to evaluate potential business opportunities, including a potential public offering of shares of DHI Common Stock of Dell, a potential business combination between Dell and VMware … and a potential conversion of shares of Class V Common Stock of Dell into shares of DHI Common Stock of Dell. Dell is also considering maintaining the status quo."
The filing adds "Dell has not determined which, if any, potential business opportunity to pursue and there can be no assurance that any potential business opportunity will be pursued, the terms thereof, or whether, if pursued, any such business opportunity would be consummated."
There's also news that "The potential business opportunities currently being evaluated by Dell do not include the sale to a third party of Dell or VMware."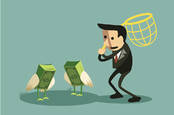 Will Dell eat VMware? Or will Carl Icahn snack on Dell? And where does Uber fit in? Yes, Uber!
READ MORE
The filing explains that as part of its deliberations Dell has appointed a Special Committee to act in the interests of its Class V stock, the shares created to compensate VMware shareholders after it was acquired by Dell along with VMware. Any transaction would require the Special Committee's signoff, and that of Class V shareholders.
Dell reportedly considered returning to public ownership in January 2018. Rumours that it was also pondering some sort of transaction involving VMware emerged a few days later.
But there's been no word of what Dell may or may not do since. Investors have, however, been quite active, buying and sometimes selling reportable chunks of VMware as they seek to either make some cash or influence Dell in ways they fell will help them to do so. ®