This article is more than 1 year old
On 20th anniversary of Microsoft antitrust, US Treasury Sec calls for Google monopoly probe
Europe, America getting twitchy about web search dominance
US Treasury Secretary Steve Mnuchin has added his voice to a growing number of government officials calling for large tech companies to be investigated for potential antitrust violations.
Asked whether Google was abusing its market dominance as a monopoly, Mnuchin told CNBC on Monday "these are issues that the Justice Department needs to look at seriously," and argued that it was important to "look at the power they have" noting that companies like Google "have a greater and greater impact on the economy."
Mnuchin's willingness to directly criticize Google and other tech companies and argue that they should be under investigation is just the latest sign that Washington DC is serious about digging in the market power of Big Internet.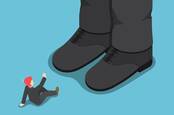 You, Google. Get in here and explain all this personal data slurping – Missouri AG subpoena
READ MORE
It is notable that it was 20 years ago, almost to the day, that America finally dealt with another tech antitrust problem when the Justice Department and 20 state attorneys general filed suit – on May 18, 1998 - against what was then the most powerful tech company in the country: Microsoft.
You can read El Reg's extensive coverage which started with this story in August 1998 and ran for some time.
Game of monopoly, anyone?
Mnuchin's comments on Google came after a special 60 Minutes episode that focused in part on the company and its effective search monopoly. That segment was notable for the inclusion of two people: EU competition commissioner Margrethe Vestager and Yelp founder Jeremy Stoppelman.
Vestager is responsible for a number of big European actions against US tech giants, including: fining Facebook €110m ($130m) for "misleading" regulators about matching user IDs when it bought WhatsApp; ordering Ireland to recover €13bn ($15bn) in taxes from Apple; and fining Google €2.4bn ($2.8bn) for promoting its own shopping search service over those of smaller rivals.
It was on that last part – Google using its 90 per cent control of the search engine market to promote is own services and downgrade its competitors - that the TV segment focused on.
Vestager was quite plain in her view when she said that the EU not only felt that Google was acting illegally but that "we can prove it." Her staff ran through over a billion Google searches and found that Google was knowingly manipulating its search algorithms to promote its own products and push competitors far down the ranking.
"It's very difficult to find the rivals," she noted. "Because on average, you'd find them only on page four in your search results." This was, she said, "done on purpose" and she said Google was rigging the game – which is illegal.
Stop! pelman
For his part, Yelp founder Stoppelman complained that it would be impossible to start his review-based service today and pointed out that Google plants its own services at the top search results – using a search for "sushi San Francisco" to illustrate his point.
Google places its own listings and ratings service, connected to Google Maps, at the top of the page and the Yelp listings – which are typically the first or second link in all other search engines – are shoved far down the page.
The issue is more noticeable on a mobile phone where, Stoppelman notes, the entire screen is taken up with Google-owned information.
None of this is exactly new: lots of people – including us at The Register, – have pointed out that Google has for years abused its position to promote its own products and services and bump down competitors.
And, of course, the FTC actively ruled that Google had "strengthened its monopolies over search and search advertising through anti-competitive means", including stealing content and limiting advertisers.
But, famously, the FTC decided not to pursue an antitrust investigations – which had nothing whatsoever to do with the extremely cosy relationship that Google had with the Obama Administration.
That tech love-in died with the Trump Administration (which, by contrast, appears to have a strong bias in favor of Big Cable and fossil fuel companies) and Mnuchin's comments are just the latest in a growing chorus of concern over tech giants, ranging from market abuse to fake news, in the corridors of power.
Feels the same?
So are we finally at the same point we were in 1998 when, after years of complaints about Microsoft abusing its market power, the authorities are finally willing to overcome their free-market bias and ignore the healthy campaign contributions to act on behalf of the American people?
We will have to see, but it feels fairly similar right now. It is not the same of course: no one is forcing people to use Facebook, and, as Google is fond of saying, a competing search engine is just a click away. But at the same time, Facebook has its code on just about every major website, and Google pays companies billions of dollars to make sure it is the default search engine.
Things change but that same sense of a company doing something obviously wrong because no one is in any position to stop is very much present. When you have mainstream TV shows and cabinet secretaries chiming in, it may be a sign that the tide has turned.
Oh, and Google removed its "don't be evil" motto and philosophy from its website at some point in the past few weeks. Just saying. ®