This article is more than 1 year old
Good news: It's still legal for Apple to keep its MacBook, iPhone batteries from melting
Cupertino beats Uniloc after judge disses 'sweeping, abstract' trollish patent claim
Apple has had a lawsuit, filed by notorious patent holder Uniloc over safety electronics in notebook and phone batteries, thrown out.
Judge William Alsup, sitting in a US district court in northern California, found that Unlioc's claim to US patent 6,661,203 was invalid, as the technology it described was neither new nor significant. Uniloc had tried to persuade the courts that Apple infringed this very patent – and now it can't.
The patent in question described a "battery charging and discharging system optimized for high temperature environments" that would sense the temperature of a batt and adjust the current so as to prevent overheating. Uniloc wanted Apple to pay for allegedly infringing the patent, while Apple claimed it shouldn't have been a patented design in the first place.
In this case, Alsup agreed with the iThing giant, and axed the lawsuit without leave to amend, suggesting the notion that Uniloc's case could be salvaged "futile."
"The claimed invention never teaches any particular algorithm, parameters, variables, or values for controlling current as a function of temperature," Judge Alsup wrote in his decision on Friday.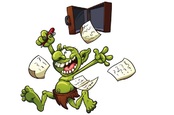 Jury to Apple: You owe patent troll VirnetX half a BEEELLION buckaroos
READ MORE
"Despite being dressed up with 'illustrative' tables and flow charts presenting hypothetical examples of specific implementation, the '203 patent discloses no inventive source code, formula, or circuitry."
The judge went on to pick apart other parts of the patent claim, noting that the basic idea, adjusting electrical flow in order to control the heat output of a circuit, has been "long prevalent in physics and engineering," and thus is ineligible to be patented.
"Uniloc claims sweeping, abstract swaths of possible methods and apparatuses using admittedly industry-standard hardware to implement the patent-ineligible concept that battery designers can adjust a battery's current flow to control its temperature," Alsup notes.
"Uniloc makes several attempts to identify an inventive concept in its claimed invention, none persuasive."
Described alternately as a "non-producing entity" or "patent troll", Uniloc has gained notoriety for using its patent holdings to litigate against large companies. The company has in the past butted heads with the likes of Rackspace and Microsoft.
The ruling comes as tech giants are continuing to push back against patent trolls by more aggressively pushing to invalidate their patents and declining settlements. ®