This article is more than 1 year old
NAND I... will always love you, says Micron as it emits 7.68TB QLC SSD
64-layer read-centric drive is industry first, we're told
Micron has whipped out the 64-layer 5210 ION SSD – apparently the industry's first QLC NAND flash drive – opening a new front in the SSD-HDD marketing war.
QLC (quad-level cell) flash stores four bits per cell, one more than today's TLC chips that use three bits per cell.
The capacities of this 2.5-inch product are 1.92TB, 3.84TB and 7.68TB. The hardware has the usual 6Gbit/s SATA interface, and is aimed at the fast-access nearline data market that is served by 3.5-inch nearline disk drives.
Micron claims this latest flash slab has a lower power draw and lower total cost of ownership (TCO) than other nearline disks in the highly read-intensive part of the data storage market. The 5210's performance, when compared to a TLC 5200 ECO, looks like this:
Sequential reads are about the same: 500 to 540MB/sec
Sequential writes are 66 per cent: 300 to 340MB/sec
Random reads are about 80 per cent: up to 75,000 IOPS
Random writes are about 33 per cent on small blocks: up to 10,000 IOPS
Micron supplied the percentages – we derived the MB/sec and IOPS numbers from the previous generation.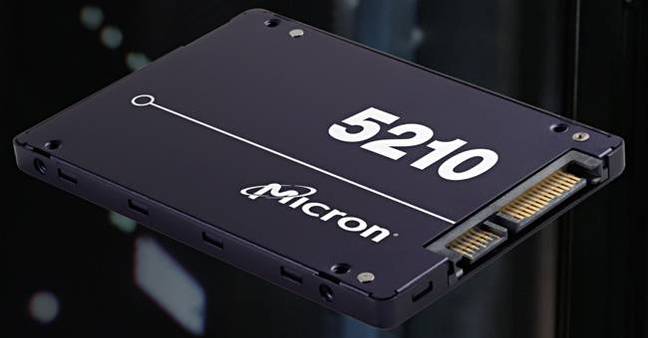 Micron 5210 ION QLC flash SSD
It has a program-erase endurance of 1,000 cycles, and its general endurance is worse than TLC SSDs, such as the 5200 ECO and PRO. However, it is, one, intended for a low write-rate market and, two, has a better workload endurance than typical 8TB nearline disk drives, according to Nicolas Maigne, a manager within Micron's enterprise storage unit. So we're looking at more than 500TB written per year for each of these QLC drives.
Again, this is a nearline disk drive replacement product, not your typical enterprise workload SSD. Micron said the potential markets are:
Real-time analytics and read-centric data stores, such as:

Read-intensive AI, machine learning, and deep learning
Big data, such as Hadoop HDFS silos
Scale-out active archives and block stores
Business intelligence and decision support systems
NoSQL databases of photo tags, profiles, and so on

Content delivery and distribution
It is shipping to certain customers, and has been for some weeks, possibly months.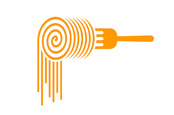 Who needs NAND when rust never sleeps? Seagate dines out on nearline disk drive boom
READ MORE
This 5210 ION drive opens a new front in the market tussle between disks and SSDs. We can expect other solid-state drive shippers to follow Micron's lead, such as Samsung, Toshiba, and Western Digital as well as SK Hynix. They will all probably have products shipping in the first half of 2019, if not before.
The effect on the nearline disk drive market remains to be seen, but it could range from minor to damaging over the next two to ten years, depending on the size of the performance-sensitive part of this market, and QLC flash production increases.
There is obvious scope for capacity increases. Micron's third-gen 3D NAND technology is coming, with possibly 128 layers, and we could theoretically see 50TB-plus 2.5-inch QLC SSDs on the shelves, their capacity outpacing that of 3.5inch disk drives. The rack data storage density of QLC SSDs will be higher than that of 3.5-inch nearline HDDs, with a lower power draw, making them attractive to data centers reaching their power supply limits.
They could conceivably find a role in some data centers as a storage tier between disk drives and TLC flash SSDs. ®