This article is more than 1 year old
Das blinkenlights are back thanks to RPi revival of the PDP-11
Retro computing fans wrap classic DEC fascia round world's fave hobby machine
Always wanted a PDP-11, but don't have space for the iron? Good news: an obsolete computer enthusiast s offering beta tests of a kit designed to recreate the famous Digital Equipment Corporation box on a Raspberry Pi.
As Obsolescence Guaranteed explained here earlier this month, "The PiDP-11 wants to bring back the experience of PDP-11 Blinkenlights, with its pretty 1970s Magenta/Red colour scheme."
The Obsolescence Guaranteed version does take into account that space in a home is different from a space in a computer room, so the PiDP-11 was scaled down slightly.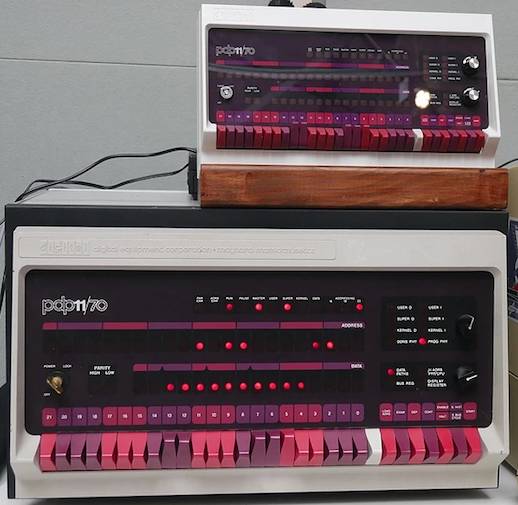 As this Obsolescence Guaranteed photo shows, the PiDP-11 is scaled down slightly from the original console - but the LEDs blink like a proper computer
Arguing that "only fools would think that PDP-11s are somehow obsolete", the post explained that most of the effort has been devoted to recreating the facade of the famous machine. On the inside, the Raspberry Pi is running Blinkenbone's version of the History Simulator project's PDP-11 emulator (here).
Even without building the OS emulation, getting the hardware working was a two-year project – and the self-imposed price limit of US$250 meant the effort rather overshot its original May 2016 target.
The circuit board includes a prototyping area, so home hackers and builders can add sensors or peripherals ("A wall-mounted PDP-11 home automation console... Why not?", the authors noted).
The designers left the I2C port of the Raspberry Pi free for hacks, and "it is not very hard to add support for such things in the simh emulator, so the PiDP-11 can use them as I/O".
The SR switches on the PiDP-11's SR switches can be set to boot various operating systems (this part is a work in progress), so instead of RSX-11MPlus users can choose BSD, DOS-11, 6th or 7th edition of Unix, and the like.
The first batch of kits is now in the hands of beta testers, and Obsolescence Guaranteed is taking expressions of interest for the next batch. ®