This article is more than 1 year old
Slurp up patient data for algos that will detect cancer early, says UK PM
Hitches NHS cart to data, AI bandwagon, as medical groups urge patient choice
The UK prime minister has been wooed by the promises made by proponents of artificial intelligence, today pledging more use of algorithms and data-crunching in the health service.
In a speech in Macclesfield, Theresa May confirmed plans to invest in boosting the use of AI in healthcare, as well as the use of data to help early diagnosis of cancer and other diseases.
The government said the aim was that, by 2033, there would be 22,000 fewer people dying of cancer, with 50,000 people each year diagnosed at an early stage of prostate, ovarian, lung or bowel cancer.
"Late diagnosis of otherwise treatable illnesses is one of the biggest causes of avoidable deaths," May said.
"The development of smart technologies to analyse great quantities of data quickly and with a higher degree of accuracy than is possible by human beings opens up a whole new field of medical research and gives us a new weapon in our armoury in the fight against disease."
The announcement is part of the government's industrial strategy - which names "AI" and data as one of four grand challenges - but better use of the vast amount of data the NHS holds has long been a government dream.
Efforts to date, however, have been fraught with issues, including creaky NHS IT systems and a lack of coherent funding for such work.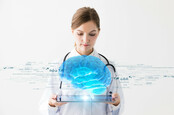 Think tank: Never mind WannaCry, update NHS IT systems for RoboDoc
READ MORE
Indeed, one of the central recommendations in think tank Reform's January report on AI in the NHS was to improve the quality of NHS data and shift the service away from paper-based systems.
But such efforts bring their own problems - a long-awaited review into shifting vital data sets from one quango to another last year recommended extreme caution, especially for large, complex and specialist data sets like the National Cancer Registry.
Meanwhile, the NHS's track record on general digital reform plans and specific projects to increase use of health data have exacerbated underlying issues with public trust.
A couple of years ago, the government was forced to scrap an £8m patient-data sharing scheme that aimed to share people's information across disparate systems to improve healthcare.
Shortly after, London's Royal Free came under fire for giving Google's DeepMind what many saw as unfettered access to millions of patient records; a decision later described as "legally inappropriate" by the National Data Guardian for health, and slammed by the UK's data protection watchdog.
Efforts to patch up the ethical holes have since been made, but there are still major concerns from both campaign groups and privacy experts about how companies should be given access to NHS data.
Nonetheless, the government's latest announcement is expected to look to private firms - which have the technical resources and financial backing the health service lacks - to help with the data-crunching.
Proponents of this tactic have said previously that offering increased access to health data could allow the NHS to benefit in the form of cut-price access to the tech developed.
But the potential for patient data to be slurped up by these firms - many of which are not famed for their ethical approach or clarity when it comes to data - also raises questions about patient trust and choice.
An AI-driven NHS?

Along with government plans for AI-driven healthcare the public needs to see serious plans for patient privacy and control. Many people don't want private companies sifting their medical records and lifestyle choices. https://t.co/RGwlj2H7UU pic.twitter.com/zudmjnr63a

— Big Brother Watch (@bbw1984) May 21, 2018
A scheme due to come into force on 25 May (nope, not that one) aims to give patients more control over how their data is used.
As of Friday, the national data opt-out will allow people to choose whether they want their health data to be used only for their own care, or for research and planning.
Commenting on the PM's announcement, campaign group MedConfidential said: "More high quality research into diseases is always welcome; will patients know that this is how their data is used, and will these projects respect the opt out that launches on Friday?"
Nicola Perrin, the head of Understanding Patient Data at the Wellcome Trust, sounded a similar note of caution.
El Reg was invited to the House of Lords to burst the AI-pocalypse bubble
READ MORE
"Artificial intelligence offers huge potential to transform healthcare, but only if new technologies are introduced in a way that people can trust," she said.
"It is more important than ever to have better conversations with the public, to explain how data is kept safe and help build confidence."
Aisling Burnand, chief exec of the Association of Medical Research Charities, agreed, saying that "responsible use of patient data [is the] key to unlock AI" and that the NHS needed to take a patient-centred approach. ®
AI-note
The Register is well aware that none of the data-crunching solutions described thus far, including DeepMind's Streams, can be properly described as AI.