This article is more than 1 year old
Telstra's mobile networks go TOESUP* in national outage
That's 'Total Outage Ends Support for Usual Performance', natch
Updated Telstra's mobile network experienced a nationwide outage on Monday morning, May 21st, 2018.
For a while, according to some media reports, the carrier's outage reporter was also down, but at the time of writing it was working well enough to identify local outages, report that the cause is under investigation, and advise that services will return at a "time to be confirmed".
Crowd-sourced outage Website AussieOutages shows problems in all capital cities: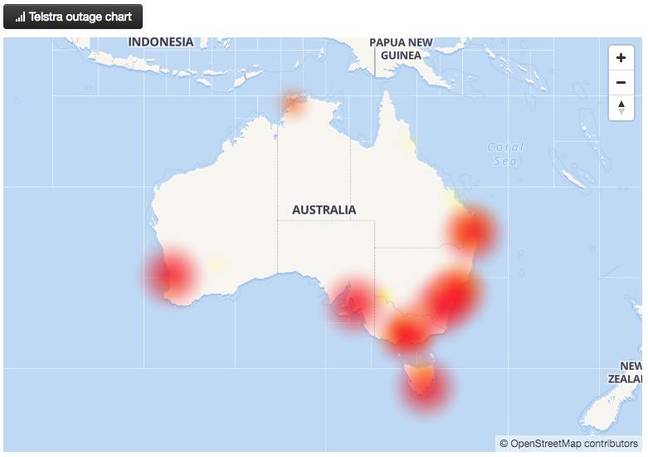 Screenshot of AussieOutages.com
Telstra acknowledged the outage on Twitter at 10:55am Monday:
We're working to fix an issue impacting some mobile services. Sorry for the inconvenience.

— Telstra (@Telstra) May 21, 2018
The outage is stopping people contacting emergency services via Telstra:
This outage may affect those attempting to call Triple Zero - 000 or Police Assistance Line - 131 444.

Until issue is resolved, police are advising those affected, where possible, to use a phone belonging to another carrier or a landline when attempting to call these numbers. https://t.co/9uiBfnY4ek

— NSW Police (@nswpolice) May 21, 2018
Because some rail networks depend on Telstra for communications, there were also flow-on effects to their operations. For example, Victoria's V-Line had a cancellation:
12:10 Southern Cross - Waurn Ponds train will not run due to a Telstra outage. Customers are asked to travel per the 12:30 SCS to South Geelong.

— V/Line Geelong Line (@vline_geelong) May 21, 2018
Some Twitter users reported having their access limited to 3G.
At the time of writing, this Telstra-using author had sporadic access to voice calls, but no data access. Other Vulture South Operatives have had cals to Telstra users go to voicemail, but TXT messages make it through.
The carrier likely hopes this isn't a harbinger of a return to its 2016 miseries, where outage after outage after outage preceded the departure of its then boss of network operations. ®
Update: Services began returning around midday. ®