This article is more than 1 year old
Tesla inches toward GPL compliance in low gear: Source code forcibly ejected into public
Some software blueprints doled out after years of complaints
Following five years of hectoring, Tesla has released a portion of the open-source code it's obligated to provide under the terms of the GNU General Public License (GPL).
Since 2013, the Software Freedom Conservancy (SFC), responding to complaints of GPL violations related to software in the Tesla Model S, has pressed the carmaker to comply with the terms of the GPL.
The SFC provides legal support to open source projects. In theory, Tesla could be sued for flouting the GPL, but even the SFC, which backed the controversial GPL claim against VMware, prefers resolving compliance issues outside of court.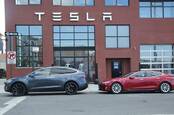 Another quarter, another record-breaking Tesla loss: Let's take a question from YouTube, eh, Mr Musk?
READ MORE
"We always follow the Principles of Community-Oriented GPL Enforcement when we work on compliance," said Karen M. Sandler, SFC executive director, in an email to The Register. "Litigation is a last resort and a tool that we hope we never have to use."
Some of the onboard systems in the Tesla Model S contain BusyBox and the Linux kernel, but the carmaker has yet to publish the complete, corresponding source (CCS) for all binaries subject to the GPL in Tesla's Model S.
Over the years, Tesla has privately provided CCS candidates to the SFC, but these have fallen short of GPL requirements. Now it gone ahead and made its half-hearted effort public.
As recounted in an email message to concerned members of the open source community, Tesla has published its still incomplete CSS candidates via GitHub repositories.
The code dump does not include installation instructions and lacks some details about how to build the directories for the root filesystem (initramfs).
"Today they contain the buildroot material that is used to build the system image on our Autopilot platform, and the kernel sources for those boards as well as the Nvidia Tegra-based infotainment system in Model S/X," Tesla's note says. "It is expected to be amended with material for other systems in the car in the near future."
The company acknowledges that the release does not include the source code of any of the proprietary applications Tesla built on top of the open source code, such as its Autopilot software stack or Nvidia's proprietary binaries. But it is promising additional GPL releases at some point.
For the SFC, partial compliance is better than nothing.
"We know many of you, particularly those Linux-savvy folks who bought Tesla vehicles, have reached high levels of frustration with the lengthy time this GPL compliance effort is taking," said Bradley M. Kuhn, SFC president, and Sandler, in a blog post on Friday.
"Nevertheless, this situation shows precisely why patience is essential for successful enforcement work; it gives us the opportunity to welcome violators to become contributors to the copyleft software community." ®