Two UK hospital workers have reportedly been disciplined for accessing Ed Sheeran's personal details after he was admitted following a bicycle accident.
The carrot-mopped guitar-botherer was treated at Ipswich Hospital last year for a broken wrist and elbow.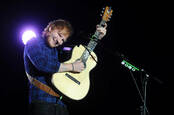 Spotify wants to go public but can't find Ed Sheeran (to pay him)
READ MORE
But, according to the Beeb, the temptation of such a high-profile patient was too much for two hospital staffers.
According to a response to a Freedom of Information request sent by Auntie about the possible data breach, the hospital admitted the staff members had "accessed patient information without legitimate or clinical reason".
The hospital had subsequently taken disciplinary action against two employees, giving one a written warning and the other the boot, the report continued.
The hospital launched a review of healthcare for celeb patients in April, six months after Sheeran's visit, which was to look at how to ensure confidentiality and privacy.
El Reg asked Ipswich Hospital about the decision, but the body said it was politely declining the opportunity to comment on the story. ®