Folks are shocked – shocked – that CIA-backed Amazon is selling face-recog tech to US snoops, cops
ACLU warns of biases in AWS cloud tech
---
Analysis The American Civil Liberties Union on Tuesday expressed dismay that Amazon Web Services has been urging US government agencies to use its Rekognition API for state-sponsored facial recognition.
The advocacy organization published emails obtained over a six-month investigation documenting marketing efforts by Amazon employees to convince officials in Orlando, Florida, and Washington County, Oregon, to deploy its cloud-based image analysis tech.
Amazon, Google, and Microsoft all pitch assorted artificially intelligent image, facial, and data analysis services to paying customers in both the public and private sector, to say nothing of the other vendors that solicit government IT business for hosted or on-premises products. Amazon, for one, services the CIA, and its AWS cloud platform is backed by Uncle Sam's snoops.
But rather than worry about all that, the ACLU singled out AWS's Rekognition for the rights-violating potential of the tech, and for Amazon's encouragement of such uses.
"Rekognition marketing materials read like a user manual for authoritarian surveillance," said Nicole Ozer, technology and civil liberties director for the ACLU of California, in a statement. "Once a dangerous surveillance system like this is turned against the public, the harm can't be undone."
In a letter sent to Amazon CEO Jeff Bezos, the ACLU demanded that "Amazon stop powering a government surveillance infrastructure that poses a grave threat to customers and communities across the country."
Beyond its claim that facial recognition threatens freedom, particularly among minority communities, the ACLU contends that facial recognition algorithms are prone to bias.
"Amazon requires that customers comply with the law and be responsible when they use AWS services. When we find that AWS services are being abused by a customer, we suspend that customer's right to use our services," Amazon told The Reg in a statement.
"Our quality of life would be much worse today if we outlawed new technology because some people could choose to abuse the technology. Imagine if customers couldn't buy a computer because it was possible to use that computer for illegal purposes? Like any of our AWS services, we require our customers to comply with the law and be responsible when using Amazon Rekognition."
They're everywhere!
Were Amazon to stop marketing its tech to government officials and offering assistance to sweeten the deal, it seems doubtful that desire to try the tech would wane. Interested federal, state and local agencies could still implement a form of AWS Rekognition on their own. AWS GovCloud would still exist even if the pitches to try specific cloud services became less focused on applications with privacy and civil rights implications.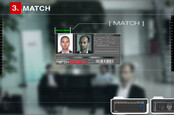 Facebook faces foe formation in facial fingering fight
READ MORE
Or government types could choose another cloud-based facial recognition API. Microsoft Azure, for example, offers a Face API. Google has its Cloud Vision API and while the API doesn't support facial recognition, it can be used with the OpenCV library to create a custom facial recognition application with a pretrained machine learning model.
Then there are companies such as Kairos and Cognetic offering similar software and services.
In China, facial recognition technology is already ubiquitous.
In the UK, face analysis tech helped nab a suspect in 2014. That same year in the US, it was used to identify and arrest a man sought for alleged involvement in two armed robberies.
The FBI maintains at least two major image matching systems that include some manner of facial recognition. There's the agency's Next Generation Identification (NGI) system, which is linked to the Interstate Photo System (IPS). The NGI-IPS allows law enforcement personnel to submit a mugshot and get back a range of 2-50 similar images. As of last year, it was used by 11 states.
Then there's the FBI's FACE Services Unit, which attempts to match an initial photo against images in state and federal databases, but isn't quite automated facial recognition, or so the agency insists.
According to the FBI, its NGI system "returns the correct candidate a minimum of 85 per cent of the time within the top 50 candidates."