The future of radio may well be digital, but it won't survive on DAB
It's neither the best technology, nor the most adaptable
Radio in the UK passed a significant milestone on 17 May. For the first time, more than half of Brits now access radio digitally.
According to Radio Joint Audience Research (RAJAR), the figures have risen from 49.9 per cent in the last quarter of 2017 to 50.9 in the first three months of 2018.
Passing the 50 per cent digital marker has been the point at which government said it will look at setting a date for the digital radio switchover.
That, though, is looking less likely than it did just a few months ago. The BBC's distribution strategy then the March speech by director of radio and music Bob Shennan make it clear that Auntie is in no hurry to see it happen – and when it does, it may not be DAB that we'll be switching to.
The first BBC DAB ensemble – the digital radio equivalent of digital TV's multiplexes – went on air in 1995, covering the London area. As even the BBC reported back in 2010, it was something of a protracted labour – the first test transmissions had begun five years earlier, and the original research was even older.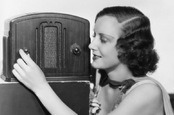 The coming of DAB+: Stereo eluded the radio star
READ MORE
Even so, the market was far from ready for DAB. The first receivers were not available commercially until two years later, comprising largely high-end receivers for audio buffs and expensive car sets. Coverage in 1995 reached 60 per cent of the population, reaching 80 per cent by the end of 2003 and another 5 per cent a year later.
Early sets were costly and the audio was far from the CD quality that people have been led to expect. Take-up was fairly slow and, initially at least, rules and regulations prevented the BBC from providing services that weren't universally available, so launching "digital-only" stations was out of the question, until a rule change in 2001.
The following year, the BBC launched five new services – 1 Xtra, 5 Live Sports Extra, 6 Music, BBC 7 and the Asian network. Meanwhile, the commercial Digital One ensemble had launched, with analogue stations that committed to a digital simulcast receiving an automatic licence extension of eight years.
Alongside Digital One's new services such as Planet Rock, Oneword and ITN News Radio, the consortium also invested in chipmaker Frontier Silicon, helping to drop the price of receivers below the crucial £100 mark.
By 2003, the stage was more or less set for a boom in consumer interest, with the addition of local ensembles that provided stations from both the BBC and the commercial sector the opportunity to reach listeners on DAB. Since then, coverage has crept up and the BBC now covers around 97 per cent of the population with its DAB services. Some of those, like 6 Music, have a tremendously loyal following. A threatened closure in 2010 sparked a campaign that showed that digital-only services were perhaps more popular than was imagined – but just how many were listening on DAB?
Ofcom's data on sales shows a remarkably static number from 2010 to 2016, with 1.9 million DAB sets sold in the first three of those years, falling to 1.8, then 1.7 and finally 1.6 million in each of 2015 and 2016. Radio sales overall are down, but analogue sets are still outselling digital by two to one. Anecdotally, too, there's a common reason why some aren't sold on DAB.
Sounds peculiar
If there's been a consistent criticism of DAB in the UK, it's sound quality. Even in London, very often coverage can be ropy, especially indoors. Long-time DAB users will be familiar with the sort of warbling underwater sounds that arguably are far more annoying than the background hiss of a weak FM signal.
Even if you do get great reception, however, you're still faced with the sad fact that, far from offering higher sound quality, in many cases what you'll get on DAB is worse. Worse than digital TV and worse even than FM. As so often with digital broadcasting, bandwidth is the problem, compounded by a decision to stick with older technology.
Just as with Freeview, when DAB launched, it used a stable, established technology in the form of MPEG audio. There's nothing intrinsically wrong with that – FM has used the same technology for decades, after all. But as more stations have launched, bit rates have dropped to accommodate more channels in the same bandwidth, and even Radio 3 doesn't really have a high enough bit rate to provide the best quality sound – it runs at 192Kbps. Most other BBC music stations are at 128Kbps. A lot of others aren't even available in stereo, which seems pretty bonkers in the 21st century.
The DAB+ standard offers some hope as it uses the far more efficient HE-AAC encoding, but although sets marked with the "Digital Radio" tick have to support DAB+ – it's been a requirement since 2013 – and it's used for a handful of newer services, there are no plans to switch over completely as other countries have done. Of course, just because HE-AAC is capable of producing better sound in the same bandwidth, that doesn't mean it will. It could equally well be used to provide more "choice" instead. Nevertheless, as the figures from iPlayer show, it's able to provide stereo audio in as little as 48kbps.
In a way, this is a similar situation to that on Freeview, where there will probably always be core muxes using DVB-T, rather than DVB-T2. High-definition pictures provided an incentive for many to upgrade, but when it comes to digital radio it feels like sound quality is secondary to content, and perhaps is not necessarily that important to consumers. Even poor DAB is likely to be better than an AM signal to most of us, but some people's ears don't really notice: Ofcom surveys claim 63 per cent of people surveyed had experienced the "clear and high quality sound" of digital radio. Perhaps they all grew up listening to Radio Luxembourg on Medium Wave.
Not so fast on FM switch-off: DAB not so hot say small broadcasters
READ MORE
Switching to DAB+, the argument against goes, would make many older receivers obsolete. While that's entirely true, it's an argument that doesn't seem to have fazed proponents of a complete switch to digital radio, which would obsolete millions more FM and AM sets. DAB has finally achieved a reasonable household penetration in recent years, with 62.3 per cent of adults claiming (PDF) to own a set, but it's unlikely that many households have more than a couple of DAB radios that would need replacing.
With a substantial number of those sets sold since DAB+ was a requirement, it might not be too traumatic to plan a switchover – after all, some of that first-generation kit will be a decade or more old by now. A move to DAB+ could also help solve one of the other problems facing a digital switchover – capacity. There's simply not enough of it for all the current analogue stations to make the switch. There are no upgrade plans, however, and with no more expansion of DAB looking likely, those for whom sound quality is important will need to listen to digital radio via other means – the internet, Freeview or satellite.