This article is more than 1 year old
OVH prepares not-discounts to not-match AWS, Azure, et al
As bit barn builds subside, increased quotas and capacity will land at the same price
OVH's wave of global expansion is nearly done and the company will soon follow other public cloud operators' leads by cost-cutting for customers.
The company's Asia Pacific director Lionel Legros told The Register that since expanding to the region OVH has worked to expand network capacity
"For instance on dedicated servers we will expand quota and traffic for all our customers," he told The Register.
He also foreshadowed a planned 60 per cent increase in server performance in coming years.
"We need to be more attractive for customers," he explained, contrasting the approach of adding capacity to other clouds' outright discounts. "We give more service and more value."
Legros said Asian users will see quota increases before the end of May 2018, and said OVH is able to do so because its initial builds in the region are complete and it is now adding infrastructure that improves the user experience.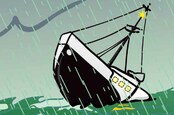 OVH goes TITSUP again while trying to fix its last TITSUP
READ MORE
OVH knows that even increased quotas won't make it much easier to go head to head with the likes of AWS, Azure or Google, especially in cloud-scale services that are often more interesting and valuable to customers than IaaS. The company hopes that its managed service provider partners can fill that gap.
OVH's Australian and Singaporean data centres were established as part of its €250m worldwide expansion plan that's also seen the company plant its flag in the USA.
Legros suggested the quota increases will be a typical experience as OVH expands. ®