Pure Storage posed widened losses of $64.3m in its Q1 ended April 30, up 12.5 per cent from $57.2m at the same time last year, while it saw an upswing in all-flash array sales.
Revenues for its first fiscal 2019 quarter were $255.9m, up 40 per cent on the year. The storage firm also posted an attendant upswing in product and staff costs – and listed an additional 500 staffers on the books – raising the headcount from 1,800 to 2,300.
The firm's execs talked up its FlashBlade gear for AI deep learning, but were also careful to talk down the enterprise storage tech's push towards hyperconvergence in favour of its own external shared storage solution.
Pure gained 300 new customers in the quarter, taking the total past 4,800, up over 40 per cent annually. Some 70 per cent of sales came from repeat purchases.
Three themes came out in the earnings call: the market potential of direct-attached storage (DAS) replacements, AI as a growth market, and preparing investors not to expect profitability any time soon. Its execs much prefer "growth", of course.
Don't believe the hype(rconverged)
Pure CEO Charles Giancarlo told analysts the "hyperconverged world works well at a certain level of scale but at very large scale, very large data centre environments. We believe that a much more structured environment … with a data-centric environment on the storage and the ability to instantiate spin-off apps to scale them to reduce them all around … is the more efficient and effective way to go."
He said: "The [majority] of the cloud companies have already gone to shared accelerated storage, they've already separated storage from compute … creating more efficient and effective environments and so we're enabling the same for our customers."
This is a pretty, er, direct attack on enterprise use of hyperconverged systems, such as those from Dell, HPE and Nutanix. It would seem that Pure is not intending to do a NetApp, which built its own hyperconverged product.
Meanwhile, Pure's DAS replacement market, according to William Blair analyst Jason Ader, "represents a multibillion-dollar TAM [total available market] as cloud service providers and large enterprise customers look to modernise expensive and inefficient last-generation DAS infrastructure."
Pure's FlashBlade product is to be sold into the AI market, helped by an Nvidia partnership, it emerged during the earnings call, and Ader noted: "Other use-cases for FlashBlade are also seeing traction, including next-generation analytics and rapid restore for mission critical infrastructure (a ripe market opportunity as it taps into existing backup budgets)."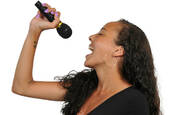 NAND I... will always love you, says Micron as it emits 7.68TB QLC SSD
READ MORE
And profit? Giancarlo said: "We can be profitable if we want to be, right? And I think we've shown that … That being said … I think for a company of our scale that growth is the most important thing."
Yesterday's news that Micron had lifted the covers off QLC flash was also a big topic during the earnings call, and Pure's president David Hatfield said:
"[It's] not at the point right now [where] we're ready to announce times for shipping or anything like that, but it's definitely something that we're excited about and working on."
The flash-flinger's CEO also talked about potential acquisitions stemming from its recent $500m cash raise: "We have a variety of new opportunities that we're looking at. All of them are adjacencies, so close to what we do today. I believe very strongly in making sure that anything we acquire fits well with both our internal expertise as well as our external selling capability ..."
Pure noted in passing that its FlashStack converged infrastructure system with Cisco is the fastest-growing converged infrastructure offering in the market.
Ader also said: "Pure's DirectFlash software enables the company to use raw flash instead of dual-ported NVMe SSDs, which its competitors must rely on and which sell at a steep premium to standard SSDs." ®