Kids and the web latest: 'Won't somebody please think of the children!' US Congresscritters plead
COPPA load of these new data protection rights for tykes
---
US Congress is pondering a bipartisan measure to expand the Children's Online Privacy Protection Act (COPPA) – the law that, well, protects children's privacy online.
Senators Ed Markey (D-MA) and Richard Blumenthal (D-CT), along with Represetnative Joe Barton (R-TX) and Bobby Rush (D-IL) have introduced bills in both houses dubbed the Do Not Track Kids Act (PDF).
"This particular legislation puts the control back into the hands of the parents by allowing them to better protect their children's personal information and would require consent before kids and teens receive targeted advertisements," said Barton.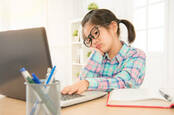 VTech hack fallout: What is a kid's privacy worth? About 22 cents – FTC
READ MORE
"I believe this legislation is an important step in protecting minors from online and mobile tracking, targeted advertising and data collection."
The bills would extend COPPA to cover minors up to 15 years of age (the current bill ends at 13) from having personal information and location data collected by sites without parental permission.
Additionally, the bill would ban targeted advertising aimed at kids and require sites to clearly explain what type of information and create a "Digital Marketing Bill of Rights for Minors" that would further limit what information could be collected for use in advertisements.
IoT devices would also see new restrictions, as any internet-connected thing marketed to kids would be required to meet FTC-mandated data security regulations and carry a clear list of what information will be trafficked.
Perhaps most importantly, the bill would call for sites to offer parents and guardians an "eraser button" option that would wipe all of a user's data from the site on demand "when technologically feasible."
The Congressfolk say the Act is a necessary overhaul to a COPPA bill that is closing in on its 20th birthday.
"COPPA is the communications constitution for protecting kids online, but we need to update it to reflect the explosive growth and innovation in the online ecosystem. The Do Not Track Kids Act puts parents in control of their children's information and contains commonsense protections for teenagers," offered Markey.
"As we see every day the implications when personal information gets hacked, I hope the least we can do is come together on a bipartisan basis to provide a privacy bill of rights for children and minors in our country." ®